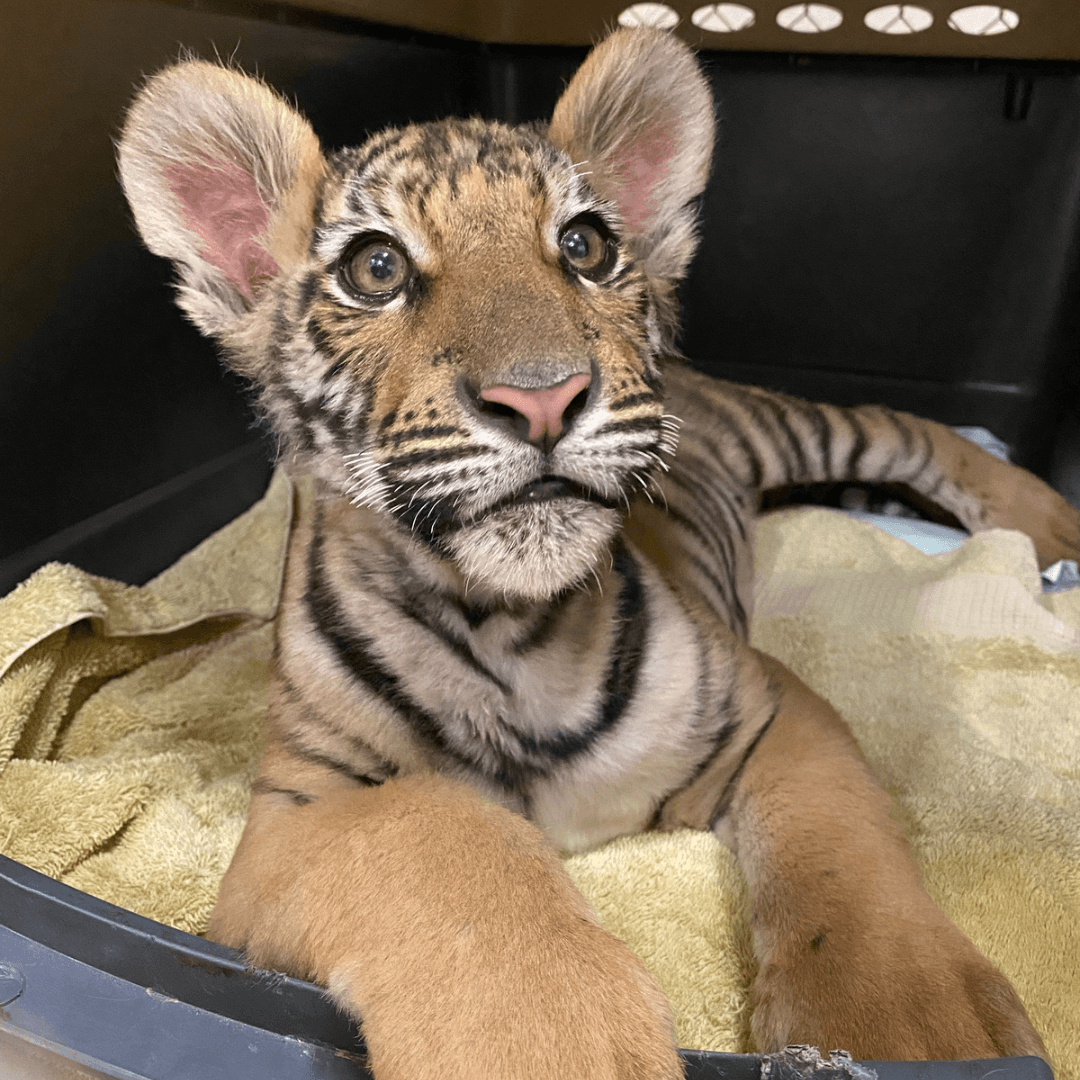 Click here to send love and care to the baby tiger.
Your eyes aren't lying to you - that's a bengal tiger!
This little girl had a tumultuous start in life, but you have played an essential role in her story. You made it possible for this little girl to have a safe place to land, and we are so excited to have received permission to share her story with you.
In late January, Phoenix police received a tip that someone listed a baby bengal tiger for sale on Facebook Marketplace for $25,000. Upon follow up, officers found the offer was legitimate - there was in fact a baby tiger in south Phoenix, alongside a baby alligator and several snapping turtles.
Of course, it's illegal in Arizona (and most U.S. states) to privately own a tiger as a pet. Police arrested the man attempting the sale, and our friends at the Arizona Game & Fish Department knew just who to call to care for the tiger temporarily - Southwest Wildlife.
The U.S. Fish & Wildlife service veterinarians alongside Southwest Wildlife veterinarians Dr. Suny and Dr. Colin examined the tiger shortly after she arrived. They were thrilled and relieved to find she weighed 23 pounds (appropriate for her age) and was not suffering from any potential diseases or other conditions. She was rescued at the perfect time.
Since her arrival, she's gained 10 pounds weekly eating ~3 pounds of meat per day and 1 cup of specialized formula to help her grow big and strong. You've ensured she has plenty of enrichment, including increasingly large tubs of water in which to swim, lots of tuff toys to play with, platforms to run and jump on, and expertly trained staff to support her development and needs. Because you care, she's now a happy, healthy 3-month old baby tiger who weighs a whopping 50 pounds.
Southwest Wildlife won't be her forever home. The U.S. Fish & Wildlife Service is working with local law enforcement agencies and the court systems to push for an out-of-state relocation to a facility that cares for other tigers just like this sweet little girl. There's no official timeline on when she'll be released to her forever home. While she's here, know that you have saved her from a potentially tragic fate. If she hadn't been rescued and found a safe, loving place to land, any number of developmental issues, illnesses, or instances of mistreatment or abuse could have happened.
But because you care about animals and believe they deserve a chance to live wild lives, this curious, playful tiger will live a peaceful life, well-cared for.
Thank you for your support, and for choosing to care for animals. In a world with constant distractions, it's so easy to look away from suffering. Instead, you face the plight of wildlife head on and say "Yes! Wildlife deserves a place in our world." And you do something about it.
We'll keep you posted on how she's doing and any developments in her story. Authorities are hopeful that she'll be placed in her new home soon, and you'll be the first to know when she's on her way there.
Click here to donate to support the baby tiger and all the other animals at Southwest Wildlife.