MEXICAN GRAY WOLF
Canis lupus baileyi
---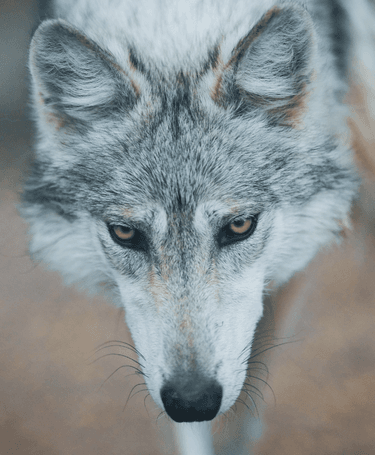 Canis lupus baileyi
Habitat: Native only to Arizona, New Mexico, and Mexico, Mexican gray wolves live in mountainous forests, woodlands, and desert
Status: Critically endangered
Population Trend: Increasing
Diet: Wolves are carnivores who eat primarily ungulates (hoofed animals) like deer, moose, and elk. To survive, they will also eat smaller animals like hares, beavers, and rodents
Weight: 60 - 85 lbs. Males are larger than females
Size: 26" - 31" tall; 3.9' - 4.9' long
Lifespan: 6 - 8 years in the wild; up to 16 years in human care
Wild population in Arizona: ~241
In the Southwest Wildlife Sanctuary: 10

Interesting Facts:

The Mexican gray wolf is the smallest, southernmost, and most genetically distinct subspecies of gray wolf in North America.

Mexican Gray Wolves are the most endangered wolf in the world.

At one point in time, there were only 7 Mexican Gray Wolves in the wild; 6 males and 1 pregnant female. Southwest Wildlife is a long-standing member of the Species Survival Plan (SSP) for this subspecies of the gray wolf. We have contributed to the preservation of this rare wolf by offering space at our sanctuary to care for part of the captive population. As a holding facility, Southwest Wildlife covers the entire expense of feeding and caring for these animals, with no contribution from either Federal or State agencies.
---
THE SOUTHWEST WILDLIFE WOLVES