JAVELINA
ALSO KNOWNS AS A COLLARED PECCARY
---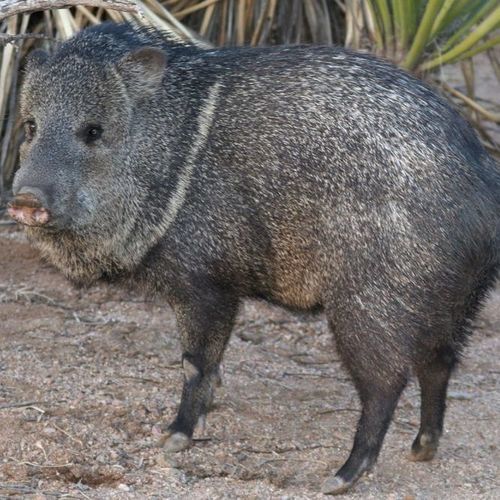 Pecari tajacu
Habitat: Desert washes, saguaro and Palo Verde forests, oak woodlands and grasslands with mixed shrubs and cacti
Status: Least concern
Population Trend: Stable
Diet: Herbivores who eat a wide variety of native plants such as agave, mesquite beans, prickly pear, as well as roots, tubers, and other green vegetation. However, if the opportunity presents itself, they will also eat lizards, dead birds, and rodents
Weight: 35 - 55 lbs.
Size: 2' tall; 3' - 4' long
Lifespan: 10 years in the wild; up to 20 years in human care
Wild population in Arizona: ~100,000
In the Southwest Wildlife Sanctuary: 4
Interesting Facts:

"You can smell them before you see them." Javelina have a scent gland on top of their rump. They will rub their scent on rocks and tree stumps to mark their territory, as well as each other to help identify family members.

Javelina hair is modified to be very coarse and thick. This modification helps them move in the pokey spines of a cactus as they forage for prickly pears.

Javelina are more closely related to Hippos and Camels as they are to Pigs.
---
THE SOUTHWEST WILDLIFE JAVELINAS