VOLUNTEER
VOLUNTEER YOUR TIME, FILL YOUR HEART
---
Volunteers at Southwest Wildlife Conservation Center (SWCC) play a very important role in our mission.
SWCC has volunteer programs in the following areas:
Animal Care
Educational Programs
Grounds Quality
Veterinary Clinic (openings in this area are rare)
Prior experience is not necessary, although may be preferred. A sense of responsibility and dedication to the cause is essential. We request all volunteers be willing to commit to at least a 6-month timeframe with a minimum of 5 hours of service a week. A driver's license and your own transportation is a must.
Please note that your volunteer work will mostly be outdoors. You will need to work in all weather conditions, hot or cold, wet or dry. Rattlesnakes, scorpions, spiders, ticks and the like are often encountered. 
All prospective volunteers will need to fill out an application and have attended a public tour of SWCC before being considered. Please note that we receive hundreds of applications each year, and we cannot invite every applicant in for an informational/interview session. Interview sessions are scheduled on an as-needed basis but usually 2 to 3 times a year. Outstanding applications my be fast-tracked to help fill a need in any of our volunteer areas.
Attendance at one of our public tours is a pre-requisite to submitting a volunteer application. 
Please note that all volunteers must be at least 18 years of age, and no pets or children will be allowed on site while volunteering.
Starting Volunteering Areas:
Animal Care Volunteers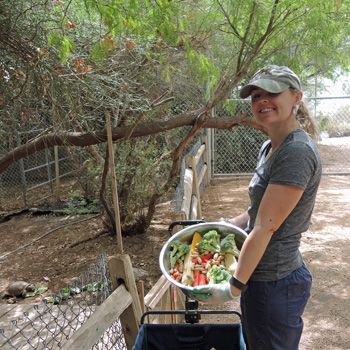 Under the supervision of the Animal Care Manager and Animal Care Specialist, volunteers will assist in cleaning enclosures and helping prepare food. Initially you will only be working from outside the enclosures, carrying things like buckets, food bags and tools for removing fecal material plus whatever the keepers need to complete their work inside. Diet preparation consists of cutting fruits and vegetables plus handling raw meat. Good physical condition is a necessity as you must be able to lift 50 pounds and be able to stand for extended periods in all weather conditions. Be aware of the existence of allergens as you will be exposed to bedding material that is dusty and filled with dander and fur. It is your responsibility to have your tetanus vaccination up to date, and preference may be given to those who have a pre-exposure rabies vaccination. Animal Care work is performed weekdays, usually Mondays and Thursdays, from 8:00 AM to 2:00 PM. Animal Care volunteers are also encouraged to help with special events hosted at the sanctuary.
Education Volunteers - Trail Guides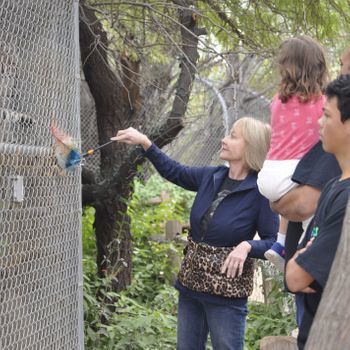 Under the supervision of the Education Specialists and the Events and Volunteer Coordinator, volunteers will help with both on-site and off-site programs. Volunteers are trained in interpretative techniques as well as animal knowledge. A 4-to-6-week training program will be provided to all Trail Guides. Education volunteers sign up for programs in advance and can have a more flexible schedule. However, we still require a once-a-week (one tour a week) commitment of all education volunteers. Education volunteers are encouraged to help with special events hosted at the sanctuary.
Education Volunteers - Events Only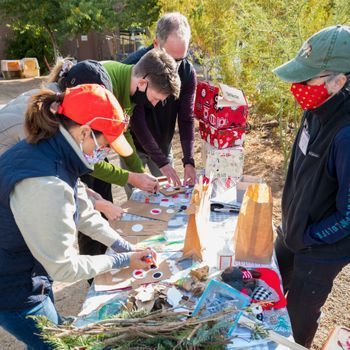 Looking for a way to volunteer for SWCC but don't have the ability to volunteer the required once a week? Consider becoming a Events Only Volunteer! Under the supervision of the Events and Volunteer Coordinator and the Education Specialists, Event volunteers will receive training on everything Southwest so they can interact with event guests and answer questions. Duties are a variety of opportunities from set-up/break-down of events to being an animal ambassador. Requirements: the ability to interact with the public in a positive way, flexibility in placement duties for events, and a once a month or more commitment to the program.
Grounds Quality Volunteers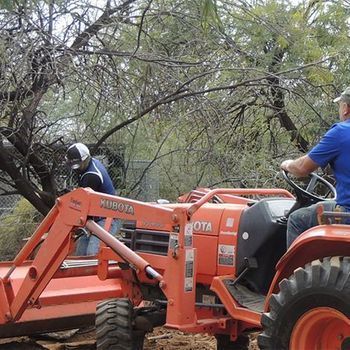 Under the supervision of the Events and Volunteer Coordinator, volunteers will assist in the care of all our public areas. Duties to include but not limited to tree trimming, racking, hosing down and cleaning off barrier rails, benches, and other guest areas. Volunteers in grounds quality will also assist (with supervision) animal care in landscaping of animal enclosures and other maintenance projects. No previous landscaping experience required; however, a certain level of physical stamina and the ability to work in all types of conditions is a must. Grounds Quality volunteers have the ability (once trained) chose their day of the week to volunteer. One 5- to 8-hour shift per week required. Volunteers are encouraged to help with special events hosted at the sanctuary.
Clinic Volunteers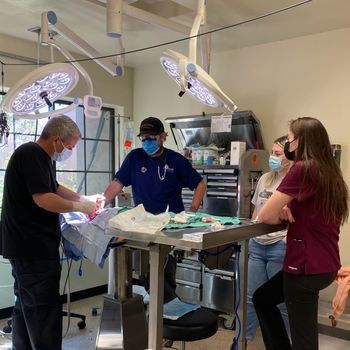 Under the supervision of the Director of Animal Health and Veterinary Technicians, clinic volunteers will assist with upkeep of the animal clinic. Duties include general cleaning, laundry, and basic animal care of clinic residents. Medical opportunities may be available to volunteers who have earned the trust of their supervisors and have pre-exposure rabies vaccines. Volunteers without vaccines will not be allowed to handle or help in the care of wildlife. Volunteers are required to volunteer one 5- to 8-hour shift per week. Please note it is rare for openings to be available in the clinic. It is not recommended that you get your pre-exposure rabies vaccines before applying.
---
Please note that if accepted as a volunteer you will be required to undergo a background check. A $50.00 fee will be collected to cover the background check, administrative fees, and a t-shirt to wear while volunteering.
So you've been on your tour of the sanctuary and you're ready to apply. Click the button below to fill out and submit your application. Thank you for your interest in becoming an SWCC volunteer!