FREQUENTLY ASKED QUESTIONS
ANSWERS TO THE QUESTIONS WE HEAR THE MOST
---
WHERE ARE YOU LOCATED?  
Our physical address is 27026 N. 156th Street in Scottsdale, Arizona. We are located in Far North Scottsdale at 156th Street and Dynamite (Dynamite street name changes to Rio Verde). We are located about a half-mile south on 156th Street (dirt road) where you will then see a sign for our location and turn right. Follow that road until you reach our parking lot. 
DO I HAVE TO REGISTER FOR TOURS & EVENTS PRIOR TO ARRIVAL?  
Tour and event registrations are required. We sell a limited amount of tickets per activity and will have to turn you away if you are not registered. Please register for a online for a tour or event or call the education department at 480-471-3621. 
CAN I COME AND WALK AROUND ON MY OWN?   
We are open to the public only during scheduled public tours and events. Guests cannot wander the sanctuary without a tour guide. Some of our events feature a station-based tour experience. The tour guides are stationed around the sanctuary, and you walk at your own pace to each station. Station-based tour experiences are featured during Family Days, Howl-o-ween and Happy Howlidays. 
HOW LONG ARE THE TOURS AND WHAT WILL I SEE?   
On average, our tours last two hours. Our tours are walking tours and completely outdoors. You will see native southwest mammals varying from black bears and mountain lions to foxes. All the animals along our tour route are non-releasable. The tour guides tell the stories of the animals that have found permanent sanctuary here at Southwest Wildlife Conservation Center.  
WHAT SHOULD I WEAR & BRING? 
Tours are outdoors as you weave in and out of shady and sunny areas. Please remember to bring sunblock, water and wear closed-toed shoes on the day of your tour. Tours take place rain or shine. 
IS YOUR TOUR ROUTE WHEELCHAIR ACCESSIBLE? CAN I RENT A WHEELCHAIR?   
Our tour route is wheelchair accessible. However, the route is completely outdoors and on a gravel path. We do not recommend electric/motorized wheelchairs or scooters unless you have taken them on dirt/gravel paths prior to your tour. Manual wheelchairs are recommended. 
We don't have wheelchairs for rent; however, we have wheelchairs that were donated to our facility for guest use. If you'd like to use the wheelchair, please let us know when you book your tour so that we can set one aside for you. Please call us at 480-471-3621 when you book your tour if you would like to reserve a wheelchair. 
IS THIS TOUR OR EVENT APPROPRIATE FOR SMALL CHILDREN?  
We recommend our regular tours for children ages 6+. If you have young children, check out our family day events. Most seasonal activities are family friendly to all ages. Give us a call at 480-471-3621 and we will help you choose the correct tour or event for your family! 
WHAT'S THE DIFFERENCE BETWEEN A PRIVATE AND A PUBLIC TOUR?   
Public tours are offered through our website. We cap our public tours at 30 participants. Private tours allow you and your party to have your own separate tour guide. Private tours must be booked at least two weeks in advance with a deposit due at that time. Requests for private tours can be submitted via our Contact Us form or by phone at 480-471-3621. Availability varies depending on the time of year. 
IS ONE TOUR TIME BETTER THAN ANOTHER?   
Every tour is a little different. Many people choose the first tour of the day so they have time for other activities in the afternoon. The Friday night twilight tour is a favorite of many of our guides because the wolves tend to howl more frequently with the changing light. Wild animals also have different patterns of being asleep and awake, for example bobcats and mountain lions tend to be more awake at the later hours whereas the javelina and coyote are more lively during the morning. The animal activity also varies by season: the bears sleep in late and go to bed early during the winter months and the kit foxes are most active during summer. Every tour is an adventure! 
ARE YOU OPEN IN THE SUMMER?  
Yes! Our animals receive care every day, year-round. Though our tours are reduced in the summertime, there are still plenty of opportunities to visit us. Summer is also the time when we most need you! Your tour fees go directly towards supporting the animals at our sanctuary.  
DO YOU HAVE DISCOUNTED SENIOR RATES?  
We do not offer discounted senior rates. As a nonprofit organization, we rely on tour fees and donations to care for orphaned, injured and displaced wildlife. 
DO YOU HAVE ANY DISCOUNTS AVAILABLE?  
We do not offer any discounted rates. As a nonprofit organization, we rely on tour fees and donations to care for orphaned, injured and displaced wildlife.  
DO YOU OFFER SCHOOL PROGRAMS? 
Yes, we do! School programming runs September through Mid-May. Dates fill up quickly. You can submit a School Field Trip Form to request further information. 
IS THERE FOOD ONSITE?   
There are no food options onsite, and picnicking is not available. 
CAN I TAKE UBER OR LYFT TO YOUR LOCATION?   
We always recommend driving yourself to our tours as Uber, Lyft, and taxi services tend not to be reliable in far North Scottsdale. 
ANIMAL QUESTIONS
---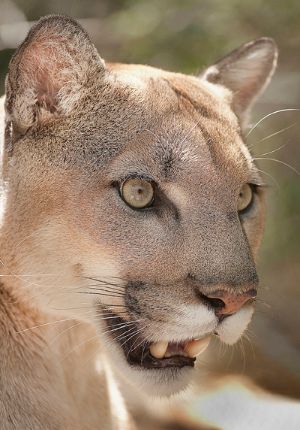 CAN WE FEED OR PET THE ANIMALS?  
We do not allow guests to feed or touch the mammals residing at our sanctuary. Many of the animals brought to Southwest Wildlife are here due to interactions with humans that have caused them to be removed from their natural homes in the wild. Our message is: wild animals are not pets. 
DO YOU INTERACT WITH YOUR ANIMALS?  
Though many of our animals were previously kept as pets, we do not treat them as pets. We do not approach them or try to pet them. This is for our safety as well as theirs. We want our animals to remain as wild as possible. 
WHY CAN SOME OF YOUR ANIMALS NOT BE RELEASED? 
Southwest Wildlife aims to rescue, rehab, and release as many wild animals as possible. Although release is always the goal, sometimes animals need life-long care from a wildlife sanctuary such as ours. If an animal's injuries are too severe and impact their ability to survive in the wild, they are non-releasable. They also cannot be released if they are too comfortable around humans from previously being kept as pets or from being fed. In addition, some orphaned animals are non-releasable due to not having enough time with their mother to teach them to be wild.  
WHERE DO YOUR ANIMALS COME FROM? 
Our mission is to rescue, rehabilitate and release native southwest mammals. We focusing on rescuing Arizona wildlife in need, whether orphaned, injured, or displaced. Many of our sanctuary animals were previously kept as illegal pets. We are also a holding facility for endangered Mexican Gray Wolves. 
WHERE CAN I LEARN MORE ABOUT HOW TO SAFELY CO-EXIST WITH WILDLIFE?  
Please click here to learn more about common problems and solutions with local wildlife.