The Don Coyote Society
ANNUAL SUSTAINING GIFTS FROM WILDLIFE'S CLOSEST FRIENDS
---
To recognize your commitment to wildlife conservation, we organized the Don Coyote Society as the premier donor affiliation with Southwest Wildlife. This sustaining group of Southwest Wildlife's most loyal friends provides mission-essential funds for our rescue team, the wildlife hospital, rehabilitation program, and a release structure that returns animals to the wild where they can thrive on their own as part of a vital ecosystem.   
Don was the first sanctuary resident of Southwest Wildlife way back in 1994. He came to our founder, Linda Searles, as an orphaned pup with no place to turn. Linda saw a need and rose to meet it - and thanks to your compassion and generosity, Southwest Wildlife continues rescuing, rehabilitating, and releasing animals year after year.
The Don Coyote Society is the leadership group committed to sustaining and growing Southwest Wildlife Conservation Center. Annual gifts of $1,500 and higher secure your membership in the Society. Below you'll see a graphic with levels for affiliations and the benefits offered as recognition for your generous and sustained support.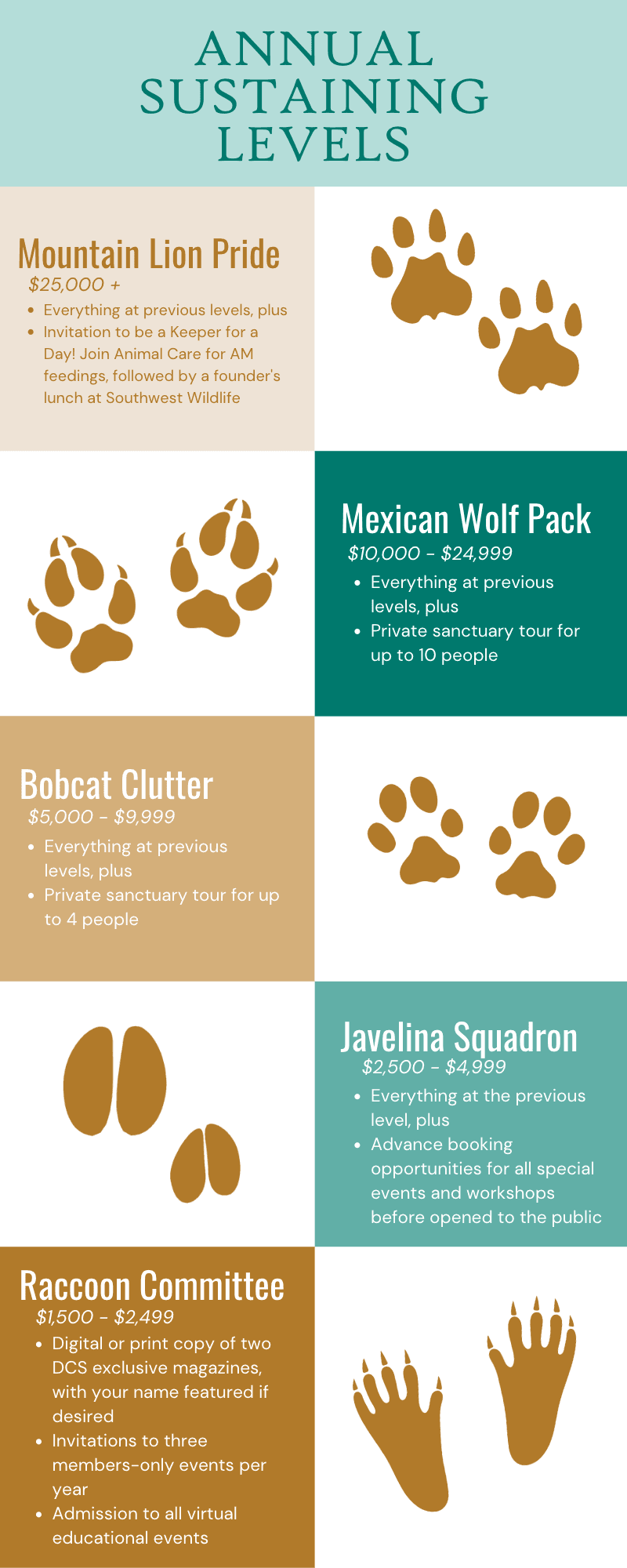 To join the society, make a donation via credit card or ACH using the form below. 
If you'd like to donate via check, print and fill out this form then mail to:
Southwest Wildlife Conservation Center
c/o Development Office
8711 E Pinnacle Peak Rd. PMB 115
Scottsdale, AZ 85255
If you'd like to set up a monthly giving plan or discuss custom gift options, please call Development Manager Jamie Haas Oliver at (480) 881-5535.
Whichever way you choose to give, know that you are making an investment in the future of Arizona's wildlife - saving them, one life at a time.