DONATE FROM OUR WISH LISTS!
THE ANIMALS BENEFIT FROM YOUR GIFTS
---
OUR WISH LISTS ON AMAZON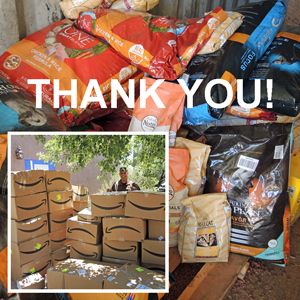 YOU DID IT!  OUR FOOD CONTAINERS ARE FILLED.  WE ARE SO GRATEFUL.  Thank you to all of you who responded to our need for cat and dog food.  The response has been overwhelming and our storage space is now overflowing with food.  We have thanked everyone we had contact information for, but if we have not thanked you directly, please know that your gift(s) of food and other items were greatly appreciated!
The Wish List on Amazon shows items we use at the Sanctuary every day, like bleach and laundry detergent, but it also shows great enrichment items for the animals, if you prefer fun rather than practical gifts!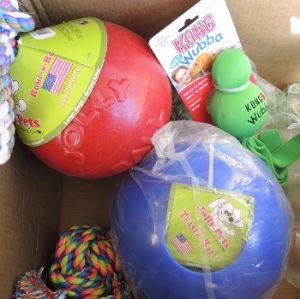 Not sure how to give through Amazon?  Amazon makes it easy for you to give to Southwest Wildlife when you shop.  If you log on to Amazon through www.smile.amazon.com, and choose Southwest Wildlife as the charitable organization you wish to support, Amazon will donate 0.5% of the price of your eligible AmazonSmile purchases to us.  Or just bookmark this http://smile.amazon.com/ch/86-0765249 and shop away.  How easy is that?  You shop, they give!  
 
Even if you're not shopping for items on our Wish Lists, the animals will benefit from your purchases!  You can read all about the program at http://smile.amazon.com/about.  Thank you, everyone, for your support!
---
OUR WISH LIST
Please contact us at swcc@southwestwildlife.org, or call 480-471-9109 for further details. Thank you!
WE DO NOT ACCEPT CONTROLLED SUBSTANCES.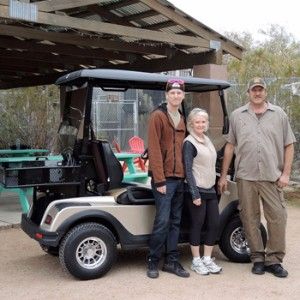 Cleaning Supplies
Bleach
Paper towels
Clorox Clean-up
HE liquid laundry detergent
Dish soap
Sponges
Liquid hand soap
Heavy duty plastic trash cans
Heavy duty trash bags (35-50 gallon)
Animal Care
Dry dog food

Purina Pro Plan - any flavor

Purina Pro Plan Puppy

Purina ONE - any flavor

Purina Beneful - any flavor

Dry cat food

Nutro Max Cat - chicken or salmon flavor

Nutro Max Kitten

Honey
Cat litter
Horse shaders
Chain link fencing and panels
Pecans and mixed nuts in shells (not roasted or salted)
Pine bedding/shavings
Straw
Large pet carriers
Snake tongs

SnakeStix snake tongs 42" snake tongs  https://amzn.to/2jFqzL5
also available thorough ACES (Animal Care Equipment and Services) https://bit.ly/2ruRpZQ
Midwest Gentle Giant 40" snake tongs through tongs.com https://bit.ly/2jIyUO6
Snake and Reptile bucket (through ACES) https://bit.ly/2FXqyea
Clinic & Surgery
Surgical gloves
First aid kits
Blankets and bath towels
Large ziploc bags
Batteries
Education Department
Copy paper
Cardstock
Letter size heat-seal lamination sheets
Poster sized Laminator
Night vision goggles
Small white Christmas lights
Heavy duty storage tubs
Postage stamps
Digital postage meter machine
General Maintenance
Metal cargo container
Heavy duty hoses
Heavy duty spray nozzles
Heavy duty extension cords
Heavy duty rakes and shovels
Heavy duty wheelbarrows
Railroad ties
Paint
Concrete
Lumber
Tarps and shade cloth
5-gallon buckets with lids
Equipment
Generators
Chainsaws
Hand and power tools
Grader
Bobcat
Backhoe
Forklift
Electric portable water pumps
Gift Cards
Amazon
Home Depot or Lowes
Petsmart or Petco
Grocery stores
Walmart
Vehicles
ATV with bed
Flat bed maintenance cart
Golf carts
SUV for outreach programs
Trailers
Flatbed trailer
Horse trailer
Office trailer
Cargo containers
Travel trailer in good condition to be used to house veterinary and biology interns and veterinarians from other countries who wish to learn more about wildlife

---