BLACK BEAR
---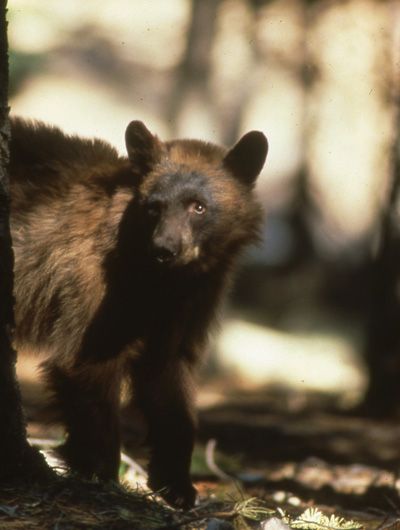 Ursus americanus
Habitat: Forests, subalpine meadows, and desert riparian areas
Status: Least concern
Population Trend: Increasing
Diet: Though classified as a carnivore, black bears have an omnivorous diet including roots, berries, meat, fish, insects, larvae, grass, and other succulent plants.
Weight: Up to 350 lbs. for males, up to 250 lbs. for females
Height: 3' at the shoulder, 5' - 7' standing
Lifespan: As they have no known predators other than humans, in the wild bears can reach 20 - 25 years; up to 30 in human care
Wild population in Arizona: ~3,000
In the Southwest Wildlife Sanctuary: 4
Interesting Facts:

Considered a "master dozer" among bear species, black bears hibernate for ~100 days (depending on the region in which they live), during which the cubs are born.

Black bears aren't always black. They can be brown, blonde, red, even a bluish-gray.

Black bears have a very keen sense of smell and can smell up to 20 miles away.
---
THE SOUTHWEST WILDLIFE BEARS