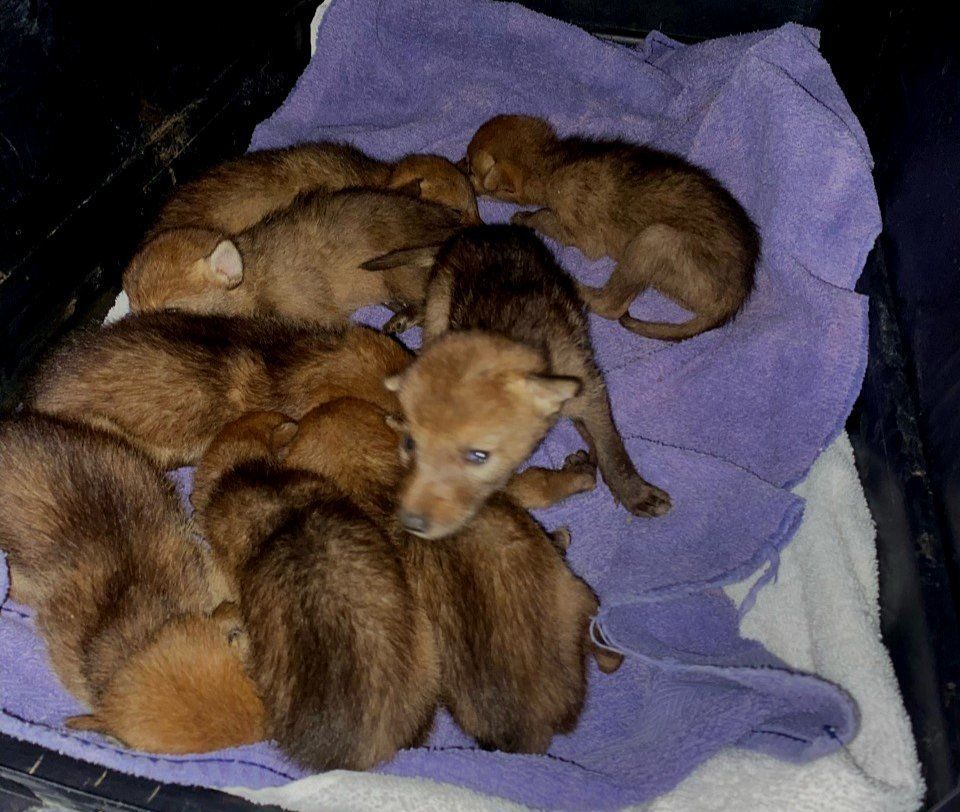 "We live in a world in which we need to share responsibility. It's easy to say 'It's not my child, not my community, not my world, not my problem.' Then there are those who see the need and respond. I consider those people my heroes." - Fred Rogers (of Mr. Rogers' Neighborhood)
May 3, 2022: Rescuer Daphne had just returned from rescuing an orphaned coyote pup when the Southwest Wildlife emergency line received another call around 8:00 PM. A man had walked to the recycling bin at his apartment complex to hunt for moving boxes. One of the boxes he found wasn't broken down and seemed to be heavy. He carefully lifted the box out of the dumpster and found something quite unexpected - eight live coyote pups.
No one knows how they ended up in a box in a dumpster. It's easy to feel anger and helplessness, to shame cruelty on social media. These feelings are justified. However, we hope you'll join us and shift the focus to gratitude for the kindness of the man who found them.
Human kindness is always worth honoring. When the man found the babies, he quickly realized they were alive and decided to help. Making a phone call to a local rescue is relatively easy, sure. But he had no obligation to do so. He reached out with the kindness in his heart.
Rescuer Daphne went out for her second rescue of the night and picked up the eight babies, clinging to life. They were cold, dehydrated, and starving. Once they reached Southwest Wildlife, they received emergency care they needed to save their lives.
With the help of Animal Care staff and volunteers, all eight babies survived. They are now eating a mixture of formula and solid food all on their own.
Thank you for being a part of this community. Thank you for caring for animals and caring for each other. Every day we are so grateful to do this work - and we can only do it because of you. Together, we are saving wildlife one life at a time.
"In a world where you can be anything, be kind."