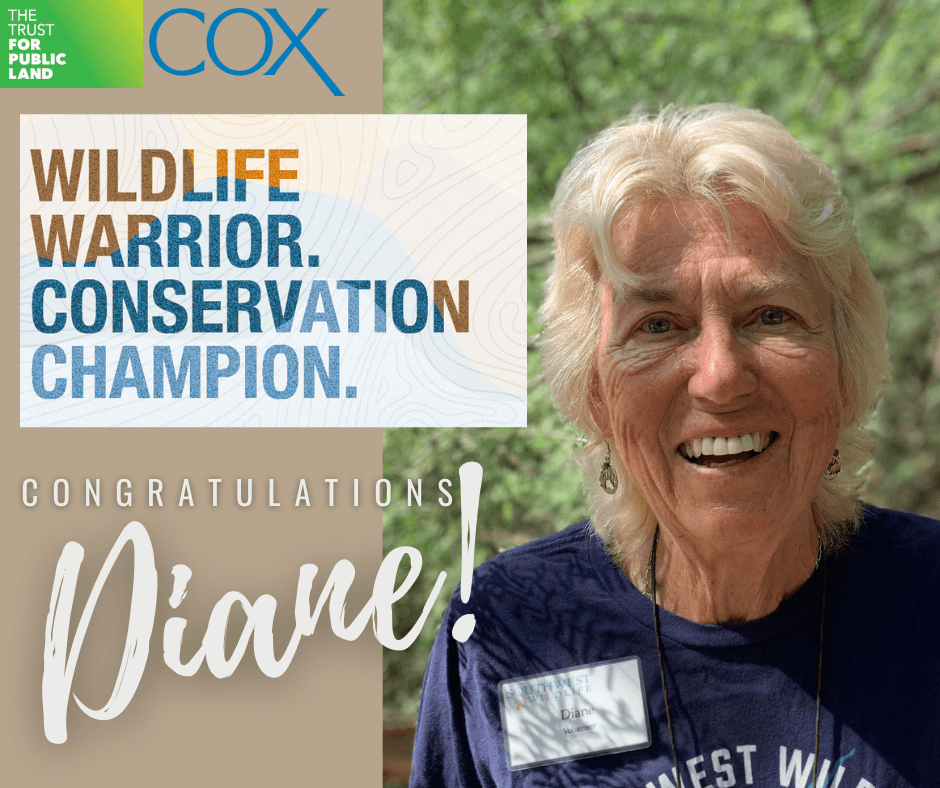 YOU DID IT! Through your tireless voting and sharing last month, Southwest Wildlife volunteer Diane Vaszily won the Cox Conserves Heroes Award 2021!
Winning the western nomination awarded Diane $10,000 to gift to Southwest Wildlife. Then, this incredible community of wildlife lovers near and far banded together and voted, emailed, and shared with friends to Vote for Diane. Your efforts paid off. Diane will receive an additional $50,000 to save our wildlife, one life at a time.
Thank you, Diane, for being the passionate woman you are. Your efforts with our Rescue Line, Children's Education, and Public Tours have continuously improved Southwest Wildlife's presence and effectiveness in the Arizona community. Your optimism, willingness to work hard, and grace have touched the lives of so many humans and animals over the years. We are honored to have been given the opportunity to nominate you for this award, and so thrilled you've won it. We can't think of anyone more deserving!
Read Diane's bio and watch her video here.
The Cox Conserves Heroes awards program is how Cox Enterprises and The Trust for Public Land honor the unsung heroes in our communities, as well as support the local organizations doing the important work of improving our environment. Through the program, we hope to inspire more people to take an active role in community conservation. To date, the national Cox Conserves Heroes program has donated over $1.1 million to environmental nonprofits and honored more than 200 volunteers. Part of the Cox Enterprises' national Cox Conserves sustainability program, Cox Conserves Heroes awards volunteers for their actions nationwide.
Thank you to every single person who voted, and to everyone who cares for wildlife in their communities. This award will create such positive impact in the lives of animals - and people - in Scottsdale and beyond.