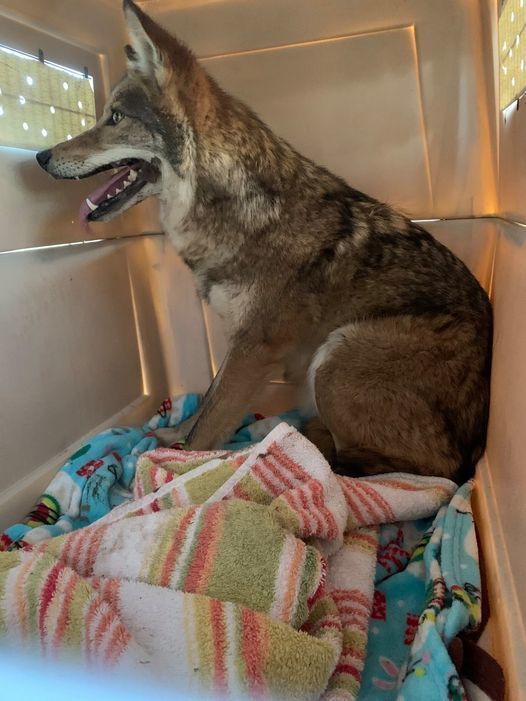 Join us in welcoming Mesquite the coyote! He arrived last week from his previous home at the New Mexico Wildlife Center (NMWC).
Mesquite had a hard start in life. The owner of a media company in New Mexico began illegally keeping wild animals for use in media productions. Mesquite was one of those unfortunate animals. The owner's wife told the New Mexico Game & Fish Department that Mesquite behaved "like a puppy" - so the staff at his new home at the NMWC was hopeful he would bond with one of his human caregivers and have a comfortable life.
As is so often the case with wildlife, things didn't go according to plan. An experienced trainer at NMWC began working with Mesquite, and it was a delicate relationship. Mesquite often expressed his stress, and was not comfortable interacting with people. After a few months of trying, NMWC decided it would be best to find Mesquite a quiet place to call home, a sanctuary where he could spend his days outside with minimal human interaction. The American Sanctuary Association connected NMWC with us, and we arranged for Mesquite's transition.
He arrived at Southwest Wednesday, October 20 and moved into a temporary quarantine enclosure in the medical clinic for check-ups and adjusting. A few days later, he moved out into his brand new enclosure - far away from the tour route where he can live his life peacefully, just to his liking.
Thank you to the New Mexico Wildlife Center and the H/3 Foundation for arranging the transfer and covering the expenses on building his new enclosure! Check out the story from NMWC here and click here to donate to support Mesquite's ongoing, lifelong care.