GOODBYE SUGAR, A SWEET OLD MARE
SHE NEEDED CARE AND A HOME FOR THE REST OF HER LIFE
---
We are sad to let you know that Sugar, the 29-year old mare who was welcomed into Southwest Wildlife's Horse and Burro program in January 2017, passed away in September.  She received love and good care during the last few months of her life, but her health continued to decline.  
Sugar was a sweet old girl, but she lived for a long time without good care.  When she arrived at the sanctuary, her feet were so neglected they looked like elf slippers! 
She also had Cushing's Disease, a dysfunction of the pituitary gland, which is most common in older horses.  Signs of Cushing's can include long, curly hair, muscle wasting, a rounded abdomen or "potbelly," lethargy, and neurologic deficits, among other things.  Sugar showed most of these signs.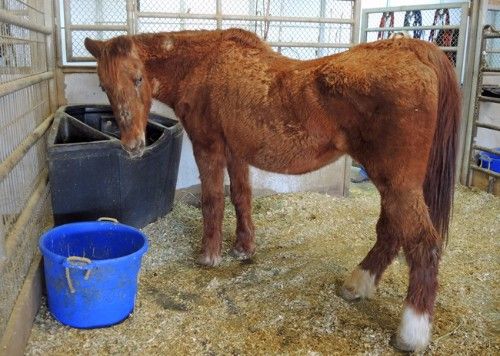 An older horse with Cushing's is truly a "special needs" horse.  Cushing's often compromises the immune system, causing horses with this condition to be more prone to infections and other health problems.  Because of this, Cushing's horses need regular veterinary care, with special attention paid to vaccinations, deworming, dental health, hoof care, and other preventive maintenance.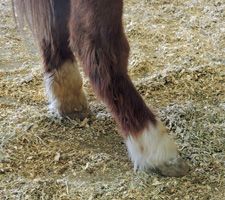 We made Sugar more comfortable with a hoof trim, and her teeth received the care they urgently needed.  We were happy to make a comfortable place for Sugar's last home. 
---
Sugar BEFORE arriving at Southwest Wildlife