JAVELINA - a.k.a. COLLARED PECCARY
Dicotyles tajacu
---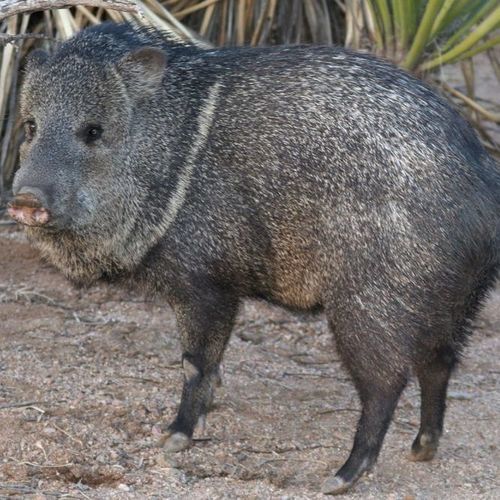 Javelina Facts
Habitat: Desert washes, saguaro and Palo Verde forests, oak woodlands and grasslands with mixed shrubs and cacti
Status: Stable
Diet: Herbivores who eat a wide variety of native plants such as agave, mesquite beans, prickly pear, as well as roots, tubers, and other green vegetation. However, if the opportunity presents itself, they will also eat lizards, dead birds, and rodents. 
Weight: 35-55 lbs.
Size: 2' tall; 3-4' long
Lifespan: 10 years in the wild; up to 20 years in captivity
Interesting Facts

"You can smell them before you see them." Javelina have a scent gland on top of their rump. They will rub their scent on rocks and tree stumps to mark their territory, as well as each other to help identify family members.
THE SWCC JAVELINAS