BOBCAT
Lynx rufus
---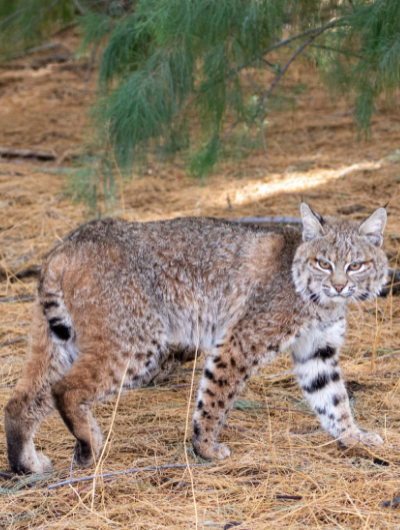 Bobcat Facts
Habitat: This adaptable feline can be found in a wide variety of different habitats including deserts, sage brush, riparian woodlands, coniferous forests, broad leaf forests, chaparral swamp - even suburban areas.
Status: Least concern
Diet: An obligate carnivore, their food of choice is rabbit - but they will eat birds, rodents, lizards, snakes, and carrion.
Weight: 15-30 lbs.
Height: 20" tall; 2-2.5' in length
Lifespan: 10-13 years in the wild; up to 25 years in captivity
Interesting Facts

The black and white marks on the backs of a bobcat's ears are false eyes. False eyes are common in nature and appear on all kinds of animals, from birds to butterflies. They are meant to deceive potential predators.
THE SWCC BOBCATS