The Bear Cub on a Ski Slope
A young black bear appeared on the ski slopes at the Heavenly Mountain Resort in South Lake Tahoe, California, in March of 2014.  He was weak and bleeding from a shoulder injury.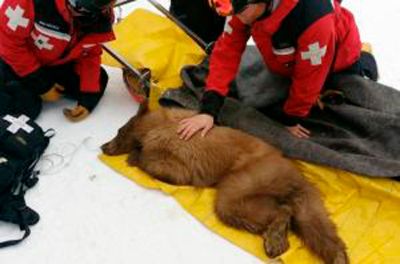 Authorities darted the bear and he was taken down the mountain to a local veterinary office for medical care.  X-rays showed no broken bones and the cub was given antibiotics for the wounds in his shoulder. 
The bear was a yearling, maybe 14 months old, and weighed only 49 pounds.  A bear his age should weigh twice that much and still be hibernating.  Since he was probably an orphaned cub, the little bear may not have had the skills to feed himself or to make an adequate den to get through the winter.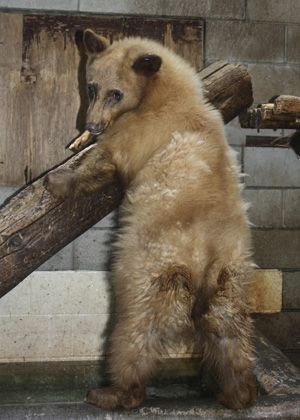 The cub, now called "Heavenly," was transported to Lake Tahoe Wildlife Care (LTWC), where he received the specialized care to recover and prepare for a return to the wild.  At the beginning of May 2014, after many weeks of care, a fat and healthy Heavenly bear was released 25 miles south of Lake Tahoe. 
The story of Heavenly bear captured hearts locally and nationally.  Everyone was rooting for his success as a wild bear.
Unfortunately, within weeks of his release he was back in the area, not far from the ski resort, and approaching people in a neighborhood, looking for food.  Although he never appeared aggressive or threatening, it was apparent that Heavenly had come to expect food from people, and, as such, could pose a danger to humans in the future.  
Heavenly would not be given another chance at freedom.  That left two options for the cub:  euthanize him, or find him a permanent home at a wildlife sanctuary or zoo.
Since the little bear had so many fans following his story, there was a push to find him a good home.  The BEAR League, a sister organization to LTWC, the wildlife care center where Heavenly was cared for, contacted the American Sanctuary Association (ASA) to ask for help with placement.  Sanctuaries who are members of the Association are often in contact with one another to find homes for needy animals and to share knowledge. 
As a member of the ASA, Southwest Wildlife became aware of Heavenly's story, and offered him a home for life at our sanctuary.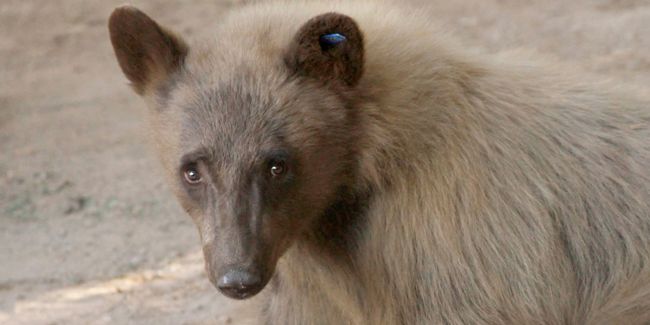 With the cooperation of the California Department of Fish and Wildlife, arrangements were made to transport Heavenly to Arizona. 
Our donors made it possible to construct a temporary space for Heavenly until the bear enclosure could be expanded.  One day soon, we hope, he can be introduced to other bears.  It was a lot of work, but Heavenly's worth it!
---
Here are some of the links to the organizations that saved Heavenly's life and some of the news stories about his adventures on the mountain in Lake Tahoe:
Lake Tahoe Wildlife Care (LTWC)
Website:  http://www.ltwc.org
Facebook:  https://www.facebook.com/laketahoewildlifecare?fref=ts
Post to SWCC:  https://www.facebook.com/SaveTahoeBears/posts/794142647279683?stream_ref=10
The BEAR League
Website:  http://www.savebears.org/
Facebook:  https://www.facebook.com/SaveTahoeBears?fref=ts
American Sanctuary Association (ASA)
Website:  www.asaanimalsanctuaries.org/
Facebook:  https://www.facebook.com/ASASanctuaries?fref=ts
News Articles:
March 3, 2014 -  http://abc7news.com/archive/9453232/  (Good video right after Heavenly is rescued from the mountain.)
March 3, 2014 - http://sacramento.cbslocal.com/2014/03/03/injured-black-bear-found-at-heavenly-mountain-resort/
March 4, 2014 - http://www.news10.net/story/news/local/eldorado-hills/2014/03/03/bear-cub-goes-up-to-skiers/5991713/
May 6, 2014 - http://www.usatoday.com/story/news/nation/2014/05/06/tahoe-bear-resort/8785427/
May 8, 2014 - https://www.thedodo.com/save-heavenly-wild-bear-no-lon-541652189.html