EMPLOYMENT OPPORTUNITIES
DISCOVER YOUR WILD SIDE
---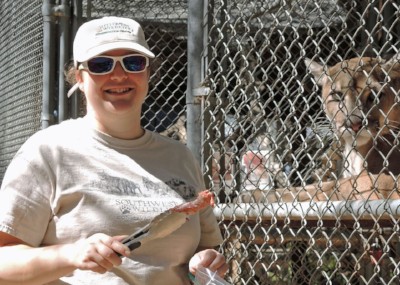 Southwest Wildlife Conservation Center
Job title: Education Specialist, $12/hr, part time, seasonal
Department: Education
Reporting to: Director of Education
Application period closes July 22, 2018
The position will run through the tour season: September 2018 through May 2019.
About Southwest Wildlife Conservation Center:
Southwest Wildlife rescues and rehabilitates wildlife that has been injured, displaced, and orphaned. Once rehabilitated, they are returned to the wild.  Sanctuary is provided to animals that cannot be released back to the wild. The Education Department tells the story of the animals brought to our sanctuary and promotes the income streams to support them. We are looking for a highly motivated and enthusiastic team member to build our capacity in educating visitors and local residents on living with wildlife and the importance of native wildlife to healthy ecosystems.
Position Summary:
The Education Specialist will assist with delivery of all education programming including on-site tours, off-site programs, promotional events, and special events. Primarily, the Education Specialist will lead tours, create positive interactions with guests, sell items at the gift shop, and help with other tour related tasks. Tours will include mixed age groups, private tours, and school field trips. The Education Specialist may handle education animals and may assist in animal care. Additional duties may require general computer skills. This is a part-time and seasonal position and requires working a flexible scheduled which will include nights, weekends and holidays. 
The ideal candidate will be able to manage a fun, interactive non-formal education environment while insuring the safety of guest and animals.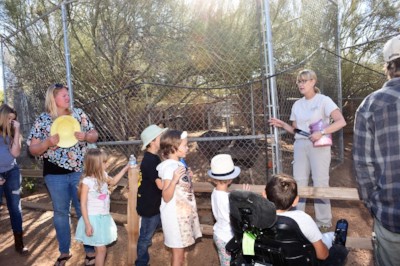 Main Job Duties and Responsibilities:  
·         Deliver on-site interpretive and educational tours for the public and school children
·         Be a courteous host to guests
·         Encourage donations and facilitate gift shop sales
·         Table off-site events
·         Assist in the implementation of special program such decorating, registration, and program clean up
·         Care for education animals when assigned
·         Support and work closely with tour guide volunteers
·         Other duties as assigned
Minimum Qualifications:
·         18 years of age or older
·         1 year experience delivering educational programs and activities
·         1 year experience teaching children  in formal or non-formal settings
·         Must have a valid Arizona driver's license
Preferred qualifications:
·         BA or BS in environmental education, education, biology or other related field
·         Certified Interpretive Guide
·         Animal handling experience
Physical requirements:
·         Must be able to walk on uneven surfaces
·         Must be able to climb/hop of low fencing
·         Must be able to lift/carry/pull 35 lbs
·         Must be able to stand on feet for long periods of time
·         Must be able to work in all types of weather conditions
How to apply:
Send cover letter and resume to:
Nikki Julien, Director of Education
Nikki.Julien@SouthwestWildlife.org
Please note:
Southwest Wildlife Conservation Center is located in far north Scottsdale on dirt roads. It is highly recommended that candidates map our sanctuary location BEFORE applying and to understand the driving distance. Preference will be given to those who have visited the sanctuary and understand the physical conditions of the work environment. Tours are by reservation only. Visit our website for more information about the center: www.SouthwestWildlife.org. Sanctuary address is 27026 N. 156th St, Scottsdale, AZ 85262.
This is a grant-funded position. SWCC reserves the right to refuse all applicants based on funding availability