9:30 am Drawing and Painting the Animals of Southwest Wildlife with April Howland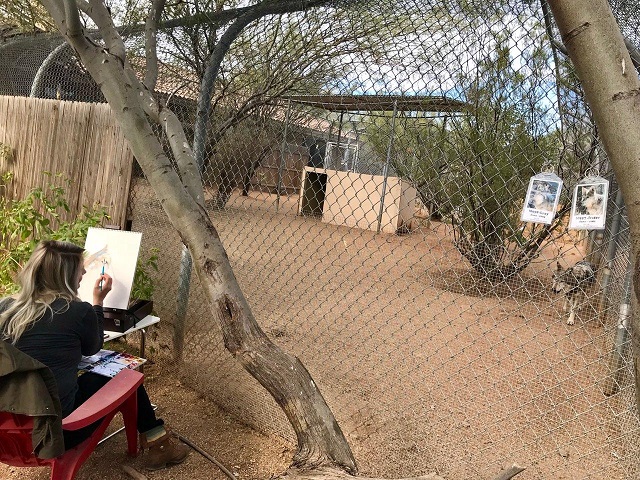 Paint and draw wildlife from life at Southwest Wildlife. Being offered for the second year in a row—a painting class with local artist April Howland. Howland's work features wildlife and pets in bold, gorgeous color. This four-week long course begins with a tour of Southwest Wildlife Conservation Center to introduce you to our gorgeous wildlife models—bears, mountain lions, bobcats, coyotes, foxes and more. Subsequent weeks will allow you to sit at the animal enclosures as long as you like to draw or paint from real life.
Howland will offer activities and coaching as you work on your pieces. Bring your own art supplies and easels. Sit and relax and become one with your art. All skill levels welcome. Pencil, watercolor, acrylic and oils are all welcome. Artists are encouraged to work on several pieces over the course of each class time as animals are free to roam their enclosures and cannot be counted on to pose for too long!
The class meets on Mondays for four consecutive weeks from 9:30 am to 12:30pm, November 18th through Dec 9th. (Nov 18, Nov 25, Dec 2, and Dec 9th)
Cost is $200 per person.
CANCELLATION POLICY: Refunds will be given with only cancellations requested prior to 1 week before the event. If SWCC cancels or needs to reschedule the event, then refunds will be automatically provided. As long as the event/program goes on as scheduled, regardless of weather or traffic circumstances, refunds are only given with a 1 week notice of cancellation. Less than 1 week notice cancellation means the registration donation will be kept as a donation to SWCC. Please contact the following email if you need to cancel your event/program registration: education@southwestwildlife.org