Memories of Mexican wolf Himuti M943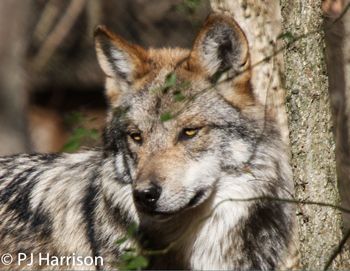 We are so fortunate to share PJ Harrison's memories of Himuti.  PJ not only knew Himuti's parents and family, but was the person who gave him his name.  Since 2000, PJ has been a supporter and major donor of the Endangered Wolf Center, at Eureka, Missouri, where Himuti's family lived.  As a volunteer naturalist and docent at the Center since 2005, PJ has done everything from tours to fence mending and annual vet captures.  She also did their videography and photography until a few years ago.  She held the positions of secretary and CFO on the Board of Directors for 6 years.  In late 2015, when she left the Board, they created an award to be given annually to the volunteer making the biggest impact on the Center.  The award was named in her honor, and PJ was privileged to be the first recipient of the PJ Harrison Award. 
Himuti (He-moo-tea) (M943) - 4/10/05 – 4/4/16
by PJ Harrison
What can I say about Himuti that could even come close to describing this amazing Mexican gray wolf?  He was absolutely his father's son.  He was also the great grandson of Don Diego (M2) one of the very few Mexican gray wolves left in the world by the 70's, and taken from the wild for survival and recovery in 1977.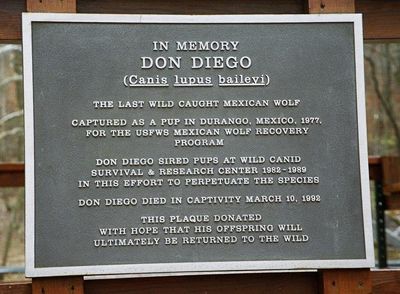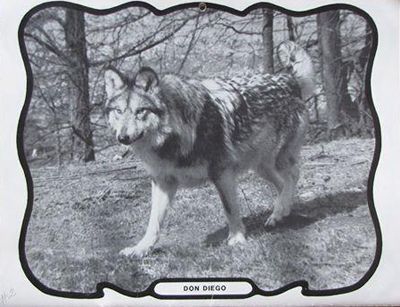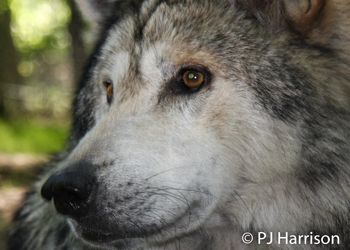 Himuti's dad, Picaron (M520) was a beautiful, proud, bold and fiercely protective mate and father.  A real John Wayne of a wolf.  His howl was one of the most beautiful I have ever heard; a soulful baritone that stood out and was easily recognized.  Picaron's mate Tanamara (F547) was also beloved by so many, including male wolves in neighboring packs that would flirt with her.  But she was Picaron's, and their love for each other was obvious and epic.  When Tanamara passed, Picaron mourned and howled for her day and night, for months, until he permanently damaged his vocal cords and forever lost his beautiful voice.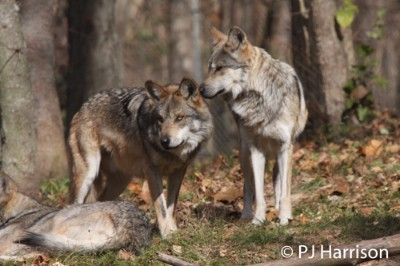 Like his father, Himuti was also a proud and confident wolf.  I am saddened that he never had the opportunity to mate.  But politics run amuck in the world of endangered wolves and make recovery an uphill battle.  There are not enough facilities in the country that are either qualified, or in a position, to house these critically endangered wolves (currently less than 100 in the wild) and keep them in natural secluded habitats where they can remain wild and non-habituated to people.  There are also ongoing efforts (sadly, mostly successful efforts) to keep wolves from being released into the designated recovery area.  So despite the fact that Mexican gray wolves are one of the most endangered species of wolf in the world, and one of the most endangered mammals in the country; with no place to go, breeding opportunities are limited.  Wolves are a mandatory part of a healthy ecosystem and the wild needs more of them.  NOTHING means more to wolves than family, and Himuti would have been a great father, as would so many others who never got the chance.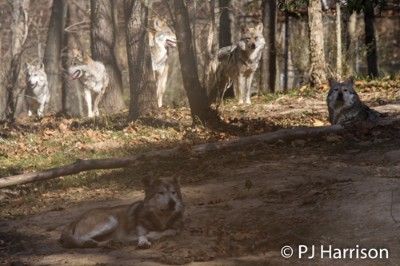 There may be other wolves with a more epic story; and there are other wolves I was around for more years, but Himiti had something more beautiful than I had ever seen or have since…...his run!  He ran with a fluid, graceful, proud, stride that looked like he was floating effortlessly and proudly through the woods.  Pure poetry in motion; that was Himuti.  And he had to have a name that was fitting, so after researching many options, I named him Himuti.  (I believe that a wolf's name should be dignified and in keeping with their native American/Hispanic heritage) and Humiti means 'proud of one 'self' in the native American Hopi language.  It fit him perfectly. He was over a year old by this time and coming into his 'manhood', but I still see him as a playful youngster too.  The large, wooded enclosure his pack was in at the time had a huge pond with a small 'cliff' on the backside.  The pups would jump off the cliff into the water, swim to the shallow side and get out, then run back to the cliff side and jump again.  The funniest part was that they would almost line up and wait their turn so only one was jumping at a time.
Himuti was humanely euthanized on April 4, 2016 at the age of almost eleven.  He beat the odds for 16 months after being diagnosed with malignant endocrine carcinoma in December 2014.  He had many more good days than bad during that time due to the excellent care of keepers at Southwest Wildlife [Conservation] Center.  But ohhhhhhh how I will miss him.  Run forever free with your mom and dad, and all the other amazing wolves that struggled and fought against myth and misinformation for a chance at life and freedom.   Run proud Himuti!