M942 - Brio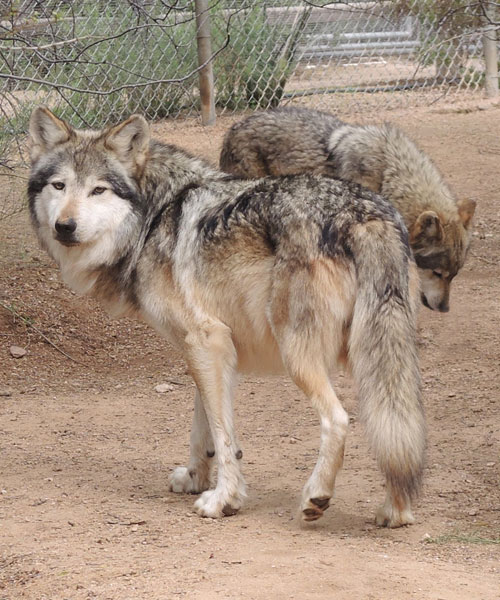 Mexican gray wolf M942, Brio, was born at the Endangered Wolf Center in Eureka, Missouri in 2005. 
A very handsome wolf, Brio lives happily with shy Serenity, F883, in an enclosure off of Lobo Lane, where they're often busy napping or observing anyone walking down Lobo Lane.
Brio is the brother of Himuti (M943), a Southwest Wildlife icon, who passed away a couple of years ago from cancer.
A favorite story about Brio is this:
Brio's mother was Tanamara (F547) and his father Picaron (M520).  Theirs was a genuine love story. 
The Endangered Wolf Center, where his parents lived, and where Brio was born, tells this story: 
 "Tanamara was eventually paired with Picaron, her true lifelong companion, whose deep, baritone howl stood out from the moment he arrived.  Their chemistry was instant, and over their years together, the couple substantially contributed to the survival of their species, delivering three litters of pups.  In 2009, Tanamara passed away.  When she died, Picaron howled for so long and so often that he permanently damaged his vocal cords.  His life, and his magnificent howl, were never the same without her." 
Faithful Picaron passed away in early 2012.  The story ends with imagining the two wolves happily reunited. 
For wolves, family is everything.
Sponsoring Brio and Serenity helps all our wolves.  With your help we are able to keep together wolves and their loved ones.