F1217 Melly & M1228 Moonlight
---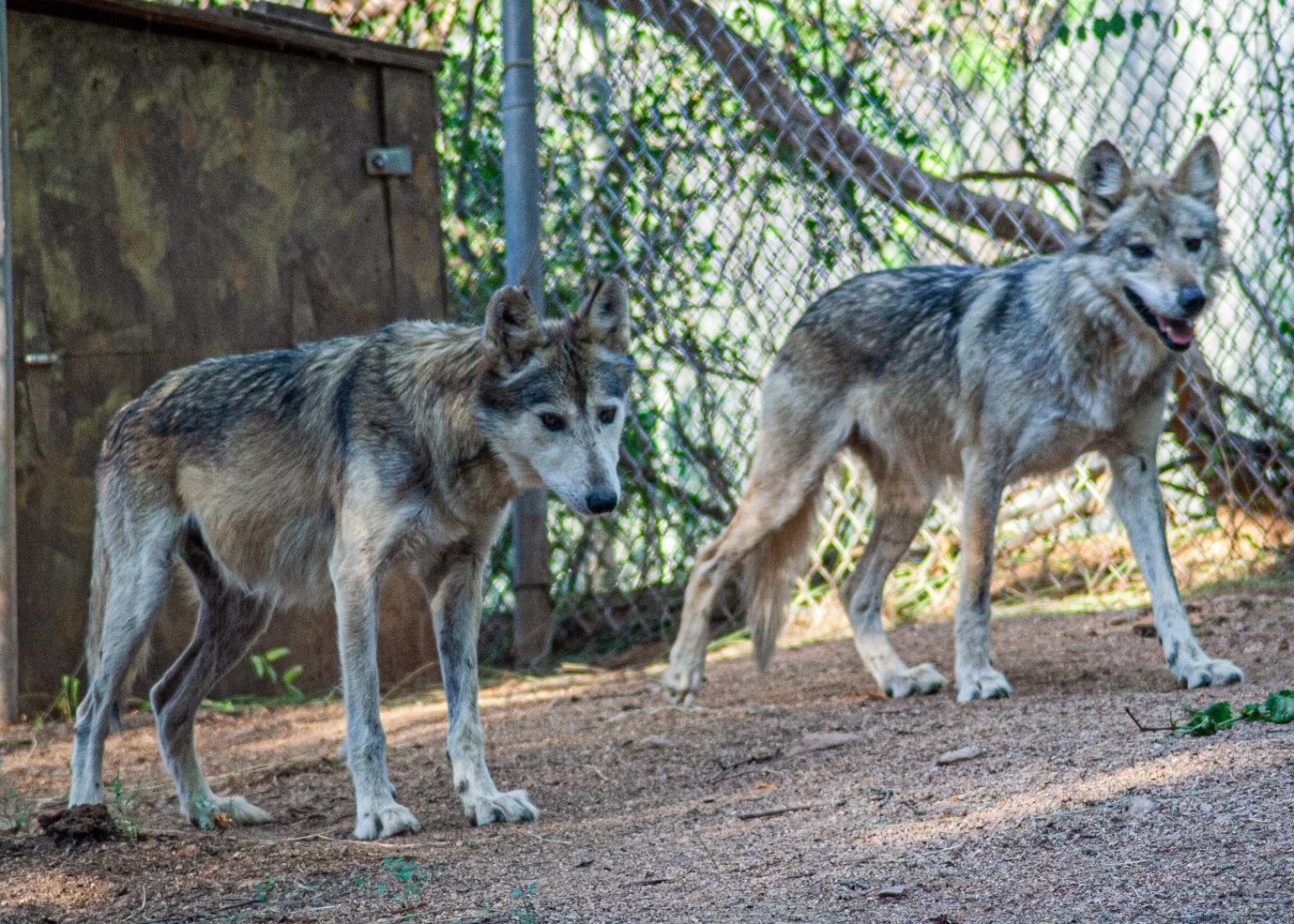 In September of 2021, F1217 Melly and M1228 Moonlight met.
Each transferred from another facility - Melly from Sevilleta National Wildlife Refuge and Moonlight from ABQ BioPark - their introduction was simple. The two seemed like old friends right from the start. 
Upon arrival, both wolves were still intact - neither had been spayed or neutered. A conversation arose among US Fish & Wildlife Service Species Survival Plan experts, Arizona Game & Fish Department biologists, and staff at Southwest Wildlife about the potential of breeding the pair. While Southwest Wildlife is committed to not breed over-represented species like coyotes, bobcats, skunks, raccoons, etc. the critically endangered Mexican gray wolf is a different situation. So few of them exist in the wild, and they are truly the wolf of the southwest. The opportunity to participate in their conservation was not only necessary, but also an honor.
The pair hit it off and in spite of their age - both wolves were 11 at the time they mated - two beautiful wolf pups were born on April 30, 2022. This is the first time either wolf had reproduced, providing a tremendous opportunity to inject genetic diversity into the wild population.
We know wildlife belongs in the wild. On May 6, a team of Southwest Wildlife staff, AZ Game & Fish biologists and US Fish & Wildlife staff successfully cross-fostered Melly and Moonlight's pups into the wild. They now roam free as part of the Rocky Prairie Pack right here in Arizona.
To give Melly and Moonlight the maximum amount of comfort and space, tours were cancelled as soon as she gave birth, and for an additional week after the cross-fostering event. The pair adjusted to their normal lives and are doing well in the Southwest Wildlife sanctuary.
We couldn't be more proud of this accomplishment, and thank all of our generous volunteers, donors, and supporters for making this possible. Thanks to all of you, there are two more young, healthy wolves in the wild.