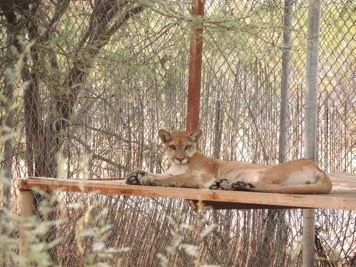 The votes are in! Nearly 1,000 votes were cast, and "Nocona" won in a landslide!
Nocona's new name fits him perfectly – it's the Comanche word for "Wanderer." He's aptly named, considering mountain lions can roam more than 100 miles.
Our "wanderer" was rescued by the Arizona Game & Fish Department in a populated area north of Phoenix.
Mountain Lions are known to inhabit the area but they are rarely seen. In Nocona's case he had been spotted sitting in a tree in a residential backyard for several hours. He was given ample space and opportunity to leave the area, but he did not safely move off on his own. 
Due to the uncomfortably close proximity to humans, the wildlife officers had no choice but to tranquilize him, and transport him to Southwest Wildlife Conservation Center, where he was evaluated, and will remain.
He appears to be a juvenile (20-24 months).  At that age, he may have just separated from his mother. If he were a fledgling (bird), we would say he was "kicked out of the nest."
It was his time "to fly" and although he'd been taught hunting skills, he was likely practicing those skills on the easy targets first… rabbits, mice and squirrels.
If you encounter a mountain lion, do not approach it.  Call Arizona Game & Fish and remain at a safe distance.
Although Nocona's misadventure led him to Southwest Wildlife, he will lead a comfortable life with us. He appears to be settling into his new environment and is getting to know his mountain lion neighbors.
Our professional Clinic and Animal Care staff are keeping a watchful eye, and, like all our other animals, Nocona is getting the absolute best care.
Raising a mountain lion is a challenge - and an expensive one. Our new resident will require plenty of care. As a non-profit, Southwest Wildlife Conservation Center receives no State or Federal funding.
Although Nocona isn't currently on our Sanctuary tour route, he has been added as one of our animals available for sponsorship. Consider sponsoring him today to help pay for his care.