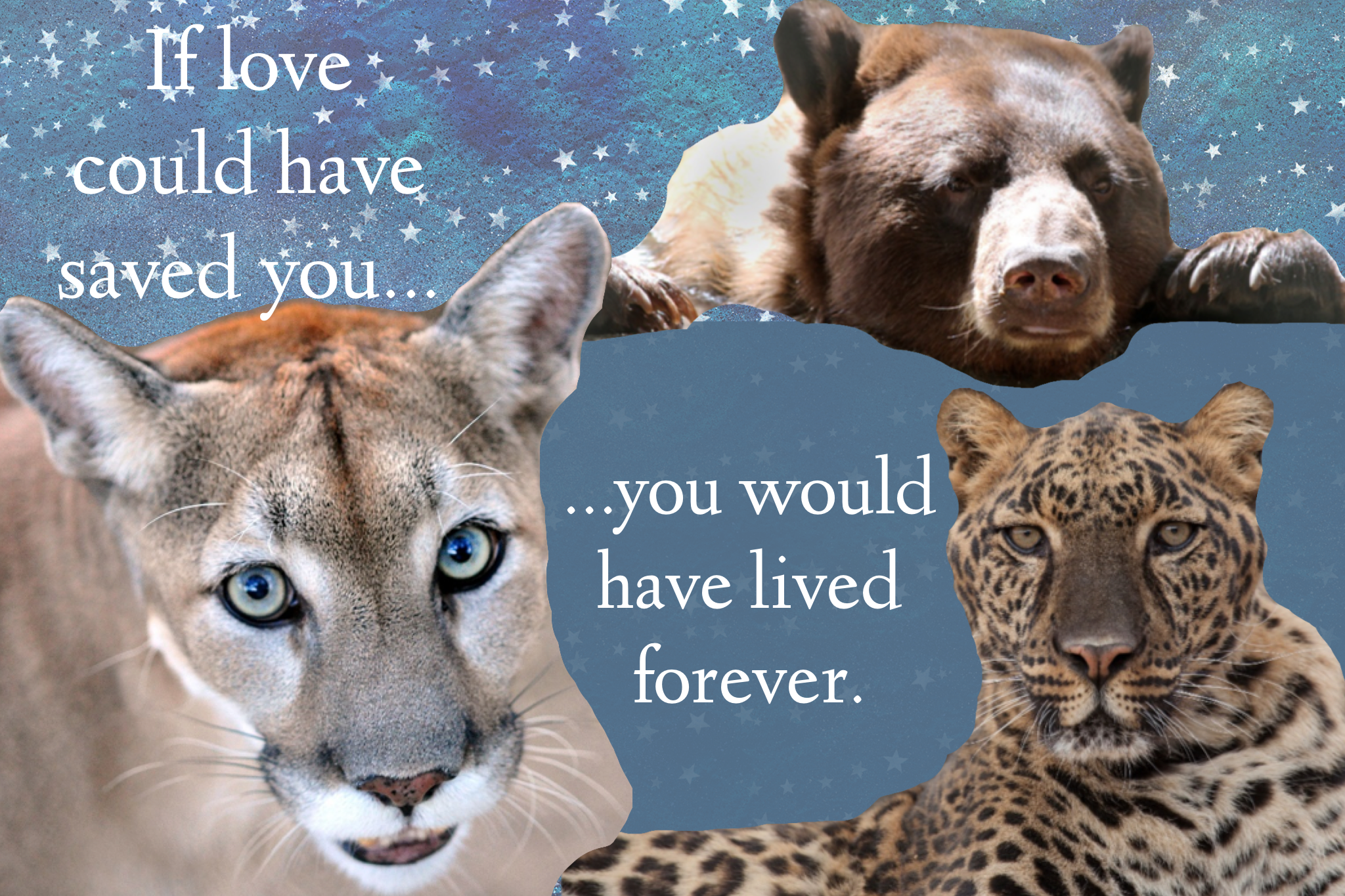 There are holidays set aside to remember Veterans, heroes and momentous events. Did you know there is a day to celebrate and remember beloved animals that are no longer with us? It's called Rainbow Bridge Remembrance Day.  This year it was August 28th.
Like the ocean, there is an ebb and flow to our sanctuary population. Serving as a docent for more than a decade, I have seen many sanctuary animals come and go, all of them special.
I've seen our mountain lion population go from 7 to 3 (now 4); our coatimundis shrink from 6 to 3. 
However, there are always animals which, for one reason or another, are simply unforgettable.
Let's look back at some of Southwest's beloved animals that have crossed over that Rainbow Bridge.
Berry the Bear
was born in 2001. As a small cub, Berry was kidnapped from the wild by two young boys on an Arizona Native American reservation. When authorities found out, Berry was taken to a zoo on the reservation. Suffering from malnutrition and starvation, he suffered seizures and a vet had to force feed him. 
When Berry's health improved, and he was moved to an area with other bears. Unfortunately, the female bears just wouldn't accept him and picked on him. Berry needed a place to live where he could feel safe and not be intimidated by larger bears.
Southwest Wildlife was that place. SWCC was (and still is) the only accredited wildlife sanctuary in Arizona with the facilities to care for bears and other large mammals.
Berry loved to show off and get special treats from the tour guides.  In warmer weather, Berry could often be found bobbing around in his filtered swimming pool or lounging on top of his rock waterfall.  
Staff and volunteers described him as "a man in a bear suit."
Click here to watch Berry's memorial video.
Giselle the Mountain Lion, "America's Next Top Model"
If you have children, you know you shouldn't pick a favorite. But I admit, Giselle was mine. Giselle always had a "come hither" look, and when called, always answered back. A beautiful mountain lion, Giselle was a social cat who enjoyed coming out during tours to cat-talk with our docents and guests. To this day that part of the tour route feels empty. She was a petite cat, but she had a BIG personality.
Giselle did not have a storybook beginning. Born in 2002, she was just a kitten when her mother was killed so that Giselle could be taken as a pet. 
Fed an improper diet at a young age, Giselle developed metabolic bone disease, which causes bones to be porous, brittle, and easily fractured.  
Giselle was eventually discovered, confiscated by the Arizona Game and Fish Department and found a permanent home in Southwest Wildlife's sanctuary.
Leonardo the Leopard/Jaguar Hybrid - the cat everybody knew
Leonardo, or "Leo" to his friends, was believed to be a jaguar-leopard cross.  Leonardo was bred for the entertainment industry. Born in a cage, his first two years of life were spent entertaining people in a Las Vegas show.  To assure he would be "safe" for his handlers and audience, his canine teeth were extracted. No one cared that his teeth gave his jaw support and their loss made eating difficult. For extra safety, all his claws were pulled out. They didn't care that his mutilated feet were painful and crippling. No one seemed to care for his welfare at all. When his owners could no longer use him, they sold him to a small pet store and zoo in Douglas, Arizona. 
Leonardo then spent seven years in a 10 x 12-foot enclosure, as a curiosity for tourists.  Often, he was teased and neglected.  When the zoo fell on hard times, Southwest Wildlife provided a new home for Leonardo.  
It was impossible to ignore Leonardo's condition. Southwest took him from Douglas to Sonora Veterinary Hospital in Phoenix, where a he was found to have a collapsed lung and severe pneumonia - in addition to his mutilated, declawed feet.
With continuous medical care - and lots of love and attention - Leonardo blossomed.  He's became a happy, playful cat. He lived in a grassy enclosure that was easier on his feet, with perches where he could lounge in the shade, and piles of toys that he enjoyed chasing.  Leonardo finally had a safe and comfortable place to call his own.
But, as Leonardo aged, his earlier hardships continued to give him medical problems. In 2019, Leonardo's health began to decline. Eventually the day came when we had to make the painful decision to let Leonardo go. Even though it was the right choice (his kidneys were failing, and he'd lost a substantial amount of weight), it was exceedingly difficult. 
Our hearts were broken. Our beloved Leo was gone.
Click here to watch footage of Leo, and read about his rags to riches story.
---
Southwest Wildlife Conservation Center was created out of love. We continue to do all we do as a labor of love.  Whether you've followed Southwest Wildlife for a long time, or just recently became a fan, please show your love by visiting our sanctuary or sponsoring your favorite animal.