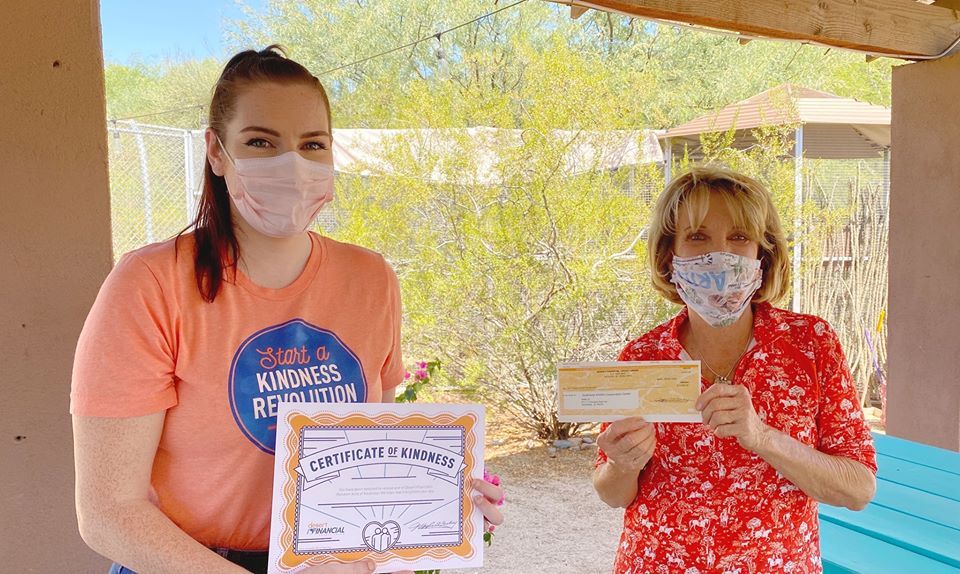 Southwest Wildlife has seen an uptick in displaced wildlife in need of medical care in the wake of brush fires in the Valley and adjacent regions of Arizona. Desert Financial Credit Union's Random Acts of Kindness program team members recently visited SWCC to connect with the animals and make a $10,000 donation.
"Many people in the Valley know about our Random Acts of Kindness program," said Jeff Meshey, President and CEO at Desert Financial Credit Union. "When we learned about the important work this quiet sanctuary has been doing for so long, we knew now was the time to make this gift. Our staff also had a wonderful time touring the center and connecting with the animals, and the very special people that care for them."
Wildfires across the state push many animals out of their natural habitats, and often into residential areas. For 25 years SWCC, the Southwest's largest wildlife animal sanctuary, has offered wildlife rescue, rehabilitation and release. So far this year Southwest has taken in more than 150 injured, abandoned and displaced wild animals, increasing the number of animals in its care to more than 300. Most will be released back to the wild when ready.
"We often say that it takes the support of a 'village' to accomplish the work of Southwest Wildlife," said SWCC Executive Director Linda Searles. "We are grateful that Desert Financial has become part of our village during these unusual times and made it possible for us to continue to fulfill our mission of saving wildlife, one life at a time."
About Desert Financial Credit Union
Celebrating 81 years in Arizona, Desert Financial is the state's largest local credit union with $6 billion in assets, more than 330,000 members and 47 locations across the Valley. As a not-for-profit cooperative, Desert Financial takes pride in sharing success. In 2019, Desert Financial gave nearly $11 million to Valley nonprofits, the community and members. Learn more at Desert Financial Credit Union.