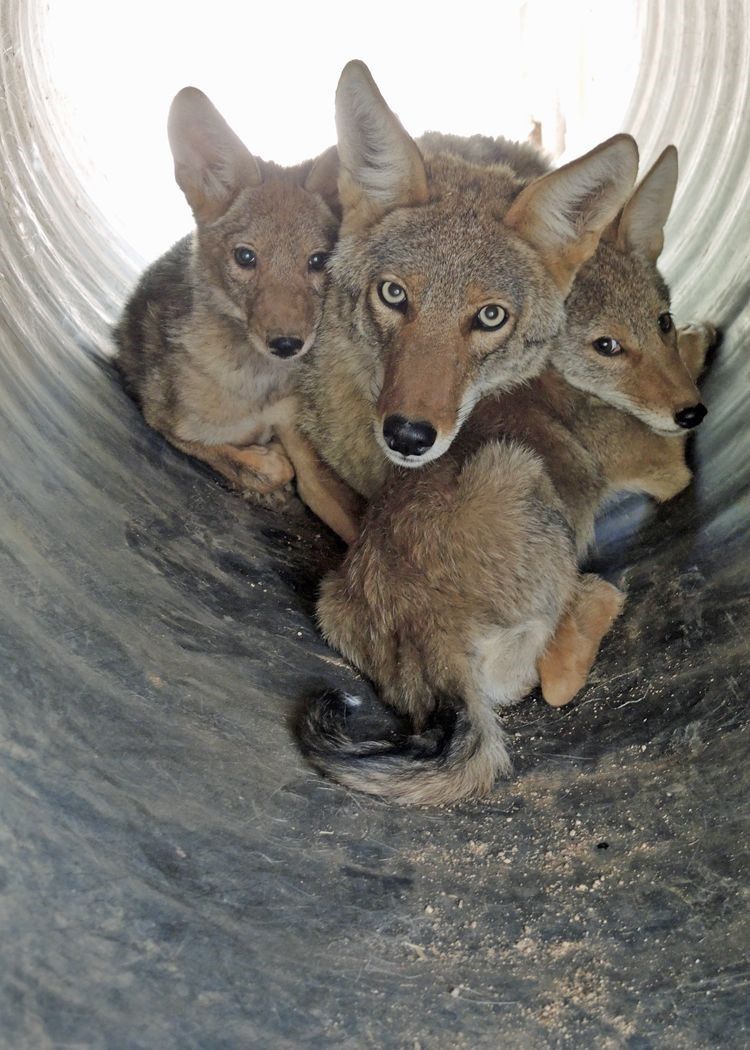 Coyote dads make fabulous fathers!
Moon came in wild and wounded, his left front leg dangling, shattered from a gunshot. Vets decided his leg could not be saved and required amputation. No longer releasable, he became a permanent resident at Southwest Wildlife Conservation Center. Last year was his first as a foster parent. The photo in this post shows him snuggling with last year's charges. We can happily report that all are now living "wild lives."
What characteristics do we look for in a male foster parent?
Fierceness, protectiveness and patience. These might be characteristics you've come to appreciate in your own parents! 
Coyotes mate for life and the male is a dedicated "alpha male" parent. Although males can't nurse the pups, they do take turns hunting and regurgitating food for them.
What lessons might a coyote father teach his young?
How not to be submissive
Boundaries
Safety
Pinch biting and pinning are ways the alpha male (dad) keep their youngsters in line.
Shortly after Moon was deemed non-releasable, he was introduced to a female three-legged coyote named Sun. Together, they have become a fierce foster couple! Currently, Sun and Moon are hard at work teaching their latest stars how to be wild.
To celebrate, and as an alternative gift for Dad, consider treating him to a tour at Southwest Wildlife Conservation Center.
Finally, the staff and volunteers at Southwest Wildlife would like to wish all of you fathers, uncles, grandfathers, father figures, dog dads, cat dads, and more a Happy Father's Day!