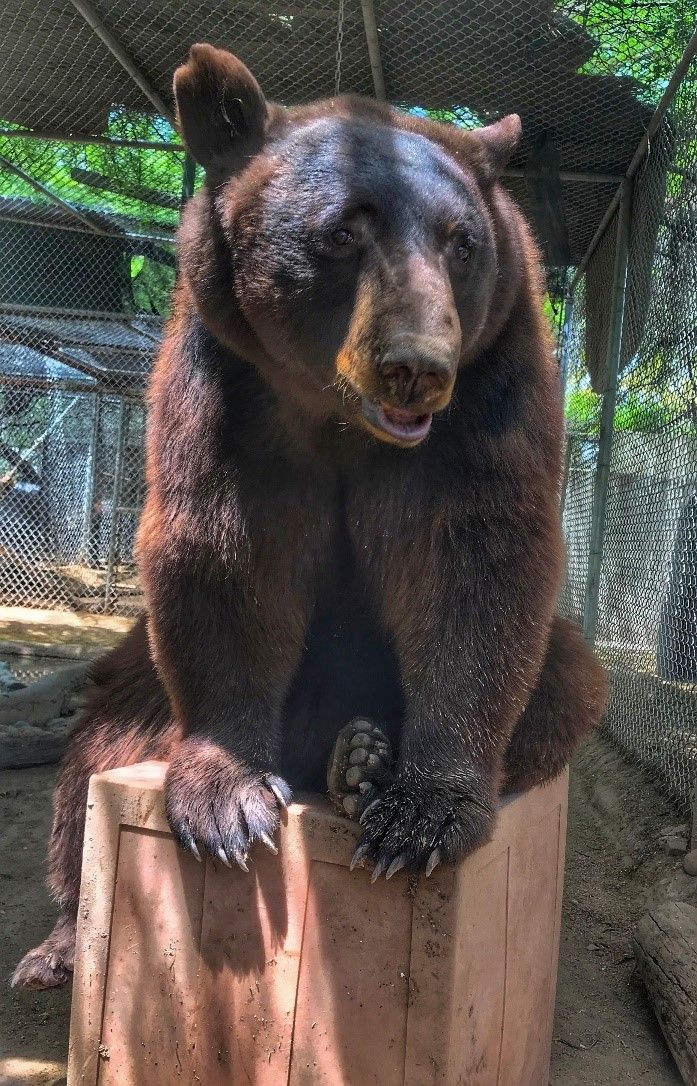 Heavenly had a rough start in life. Black bear cubs should stay with their mother up to 17 months, but Heavenly got lost somehow. We're not sure what happened, but without a mother bear to teach him foraging skills he was left to make it on his own through a long, cold winter near the Heavenly Ski Resort in Lake Tahoe, California. Found in March 2014, estimated to be a yearling, he weighed only 49 pounds. He should have weighed twice that!
Lake Tahoe Wildlife Care nursed Heavenly back to health and released that May, fat and healthy, 25 miles south of Lake Tahoe. Soon, he was spotted in the ski resort area again, approaching people, looking for food. Classified a "nuisance" bear (a possible danger to humans) Heavenly lost his last chance at freedom.
Thanks to the Bear League, the American Sanctuary Association (ASA) and with the cooperation of the California Department of Fish and Wildlife, arrangements were made to transport Heavenly here to Southwest Wildlife Conservation Center.
When Heavenly first arrived at Southwest, he was a "California blonde." As a "black bear" that seemed confusing.  However, despite their name, black bears come in more colors than any other North American mammal: black, brown, cinnamon, blonde, blue-gray and even white.
These days you can find Heavenly on our sanctuary tour route. The little fellow above looked quite different than the confident, 7-foot, 600-pound, charismatic gentleman you will find today!
Heavenly is smarter than your average bear!
For medical purposes, we are training many of our sanctuary animals to voluntarily participate in their own care. Our goal is to reduce the need for sedation, and lower stress for both the animals and their caregivers. Heavenly can shift from one enclosure to another, sit, lie down, stand-up, open his mouth (so we can check for dental issues) and is learning to present his foreleg to allow us do a blood draw.
If you have never visited Southwest Wildlife, or haven't been here for a long time, come and visit our sanctuary…for Heavenly's sake.