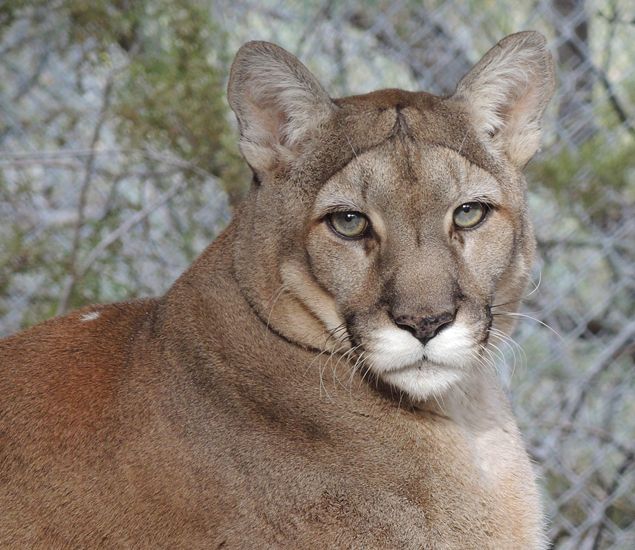 And then there were six…
Sadly, last week one of our long-term mountain lions passed away.
Cleo was born in 2001 and lived at Southwest Wildlife most of her life.
She had a tragic beginning: poachers shot her mother but kept Cleo and another mountain lion kitten as pets. Not well cared for, her sibling died of malnutrition, but fortunately Cleo survived.
Someone who knew of her situation called Arizona Game and Fish, and Cleo was confiscated.  She was treated for malnutrition by a veterinarian in northern Arizona until she was stable enough to make the trip south to our sanctuary. 
It was easy to tell Cleo from her roommates because of her unique white spot on one shoulder and her beautiful heart-shaped face.
They say, "two's company, three's a crowd." The girls--Cleo and Cascabel--were often seen together, while Tocho, the male, has always enjoyed his own company.
Cleo was known to be fickle, but if you were lucky enough to be in her inner circle she would always come out to greet you.
Farewell Cleo and in the words of Dr. Seuss, "Don't cry because its over, smile because it happened."
You can make a donation in her memory and make it possible to continue to take in wildlife in need of rescue.