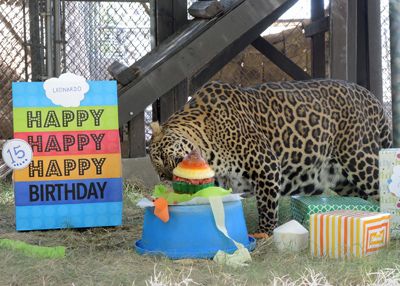 Leonardo, a confirmed bachelor, was recently spotted on the green carpet at Southwest Wildlife Conservation Center, celebrating his 15th birthday, in style. While the bobcats could only look on, enviously.
Sporting his usual rosette pattern, he was greeted with cake and presents.
Baked in the shape of a cupcake, layers of chopped chicken thighs, ground feline diet, were topped with an emulsion of blood. What every respectable Leopard-Jaguar Hybrid is eating these days.
Presents included one box filled with paper and a light spray of Avon Body Mist while another box was sprinkled with Greek seasoning. The trio of presents was rounded out with salmon and fragrant, crumbled, sweet potato dog food.
Leo has not always been so fortunate. See his story at:
https://www.southwestwildlife.org/resident_animals/jaguar/
Please plan your visit today so you can wish Leonardo Happy Birthday
yourself!