Past News Stories
A Wolf Story
Posted on 03/06/2014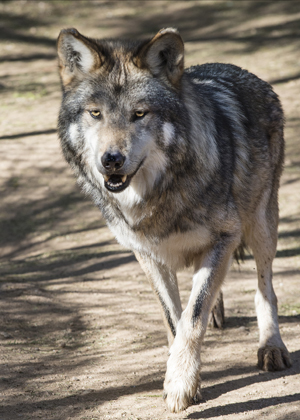 This story of Himuti, M943, a resident at Southwest Wildlife, was published in The Peek at the Peak Magazine, March-April 2014 issue. The link to the published story is http://www.gppaaz.org/peak_2014_mar_apr_mag/peak_digital_page10.htm!
A WOLF STORY
The history of the Mexican gray wolf contains many stories. Some are beautiful; some quite sad. This story is both.
Mexican gray wolf M943, a resident at Southwest Wildlife, is much more than his number. Born in 2005, he's a dark and handsome wolf with striking golden eyes. The name Himuti was chosen for him by someone who knew him well. In the Hopi language, Himuti means "proud of oneself." This wolf is all that – and more.
Perhaps his self assurance was nurtured by his parents' close bond.
His mother was Tanamara (F547) and his father Picaron (M520). Theirs was a genuine love story.
The Endangered Wolf Center, in Eureka, Missouri, where his parents lived, and where Himuti was born, tells this story:
"Tanamara was eventually paired with Picaron, her true lifelong companion, whose deep, baritone howl stood out from the moment he arrived. Their chemistry was instant, and over their years together, the couple substantially contributed to the survival of their species, delivering three litters of pups. In 2009, Tanamara passed away. When she died, Picaron howled for so long and so often that he permanently damaged his vocal cords. His life, and his magnificent howl, were never the same without her."
Faithful Picaron passed away in early 2012. The story ends with imagining the two wolves happily reunited.
Southwest Wildlife has been a long-standing member of the Species Survival Plan (SSP) for an endangered species, the Mexican gray wolf, a sub-species of the gray wolf. SWCC offers space at our sanctuary to care for part of the captive population of this rare wolf. As a holding facility, Southwest Wildlife covers the entire expense of feeding and caring for these animals.
Southwest Wildlife Conservation Center is a 501(c)(3) nonprofit organization which is run by a handful of staff and many dedicated volunteers. We are funded solely through private donations, fundraising and grants.
A Peek at the Peak is published by the Greater Pinnacle Peak Association (GPPA), a 501(c)(3) nonprofit organization dedicated to the preservation of the natural environment and enhancement of quality of life in the North Scottsdale Sonoran Desert. The magazine is published 6 times a year. Visit them on Facebook at: https://www.facebook.com/thepeakaz or on the web at www.ThePeakAZ.org/.
Himuti is available for adoption here: http://www.southwestwildlife.org/resident_animals/mexican_gray_wolf/