WINTER STORM DAMAGE
A BIG THANK YOU AND AN UPDATE ON THE CLEAN UP AND REPAIRS
---
MARCH 16 ~ WHERE WE ARE NOW AND A MESSAGE FROM FOUNDER, LINDA SEARLES
It will go down in history as the blizzard of 2019. Who'da thought we would get a foot of snow in Rio Verde, Arizona?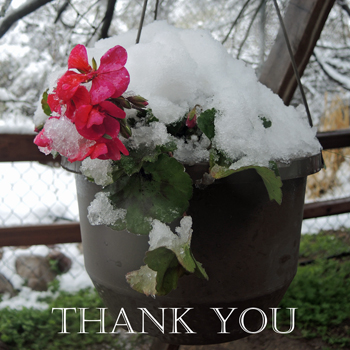 While it created one of the most beautiful scenes I have ever seen, it came at a cost. We rarely get snow in this part of Arizona -- maybe once every 10 years and then only a light dusting. We were in no way prepared for a foot of snow covering the facility. The weight of the heavy, wet snow piling up on the shade screen covering our animal enclosures was too much for the chain link and pipe roofs to support, breaking the welds that held the roofs up. And since our big desert mesquite and palo verde trees are not adapted to snow, its weight caused tree limbs to break and fall onto the enclosures, adding to the damage.
Upon arriving that morning, SWCC keepers had to crawl under and through fallen trees and limbs to get to some of the animals to make sure they were ok. In some cases, they had to catch and move them to safety before the roof totally collapsed. Thankfully all the animals were fine, with no injuries.
Our contractors went to work immediately and have been working every day repairing the damage, including rebuilding a few enclosures that were a total loss.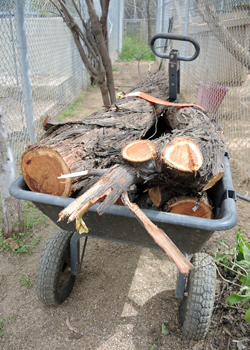 Tree trimming and debris cleanup are ongoing. After our unusually wet winter, the desert is now lush green and spring flowers abound but come summer, the dry remnants of our spring beauty will become a fire hazard. We must create defensible space around the facility to protect the animals from fire, so dead limb and brush removal will continue for some time. 
 Through it all, we never had to close the hospital or interrupt treating injured and orphaned animals. We were forced to suspend our visitor tours for a few days, but they are back on schedule and busier than ever; please come see us soon!
As you have in the past, you and all our wonderful donors came to our rescue, and we can't thank you enough. SWCC does have insurance that will cover some of the enclosure damage (minus the deductible) but it will not cover tree trimming, debris removal, or the shade screen that was damaged. With the loss of some of our shade trees, we will need to install more shade screen to shelter the animals from the summer heat. We 'll also purchase new trees to replace those lost.
Thanks to you, SWCC is still in full operation saving our wildlife.  Your donations were vital to our rapid recovery from this once-in-a-lifetime snow event. You were there for our wildlife, and I thank you.
Sincerely, 
Linda Searles
Removing damaged enclosures and trees out back in the rehabilitation area

Clearing a spot to rebuild

Rebuilding enclosures - some of the worst damage was back in our rehabilitation area
---
FEBRUARY 27 ~ CLEAN UP UNDERWAY
Your donations are greatly appreciated!  As always, we could not do this without you!  Thank you.
We are again open for tours!  Our tour route was the first place we began clearing debris so that we could once again have visitors.  See our Events Calendar if you'd like to REGISTER for a tour.  
A huge February snow storm left behind damage at the sanctuary.  Southwest Wildlife received nearly a foot of heavy snow Thursday night and Friday (February 21 and 22).  While the snow was lovely, the weight of all that wet snow caused a lot of damage to trees and to animal enclosures.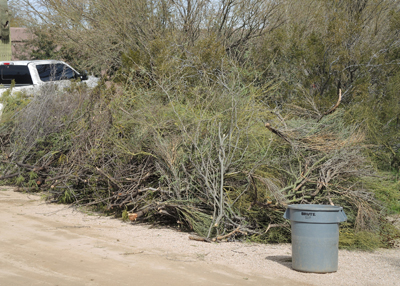 Landscaping crews are making piles of broken limbs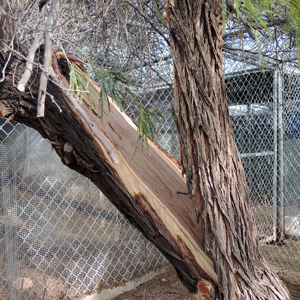 Big mesquite split down the middle :(

Clean up and repairs are underway at the sanctuary.  Crews cleared the tour path first so that we could once again welcome visitors.  They're continuing work in the rehabilitation areas to trim broken trees and clear out fallen branches.  We're grateful for the immediate response from the landscaping crews from North Scottsdale Landscape Professionals and Arizona Luxury Landscape.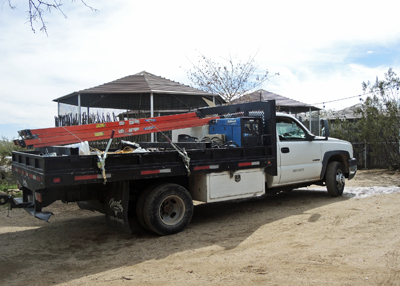 Fence crew on property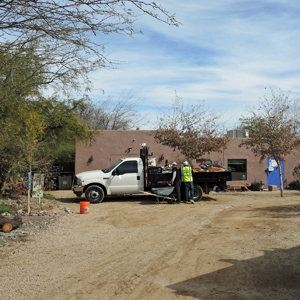 Fencing repairs underway
Adams Fence Company has also been on site to replace broken and sagging top panels and shore up supports in enclosures that were hardest hit with heavy snow.  We moved animals from the enclosures that needed fencing work done, but our favorite fence company provided a crew right away, so the animals have been able to move back home in just a few days.  
---
FEBRUARY 22 - CRAZY SNOW STORM!
The animals were are all fed and taken care of, but clean up and repair continues to be a big job.  
See Fox10Phoenix's news video coverage of our snow event!