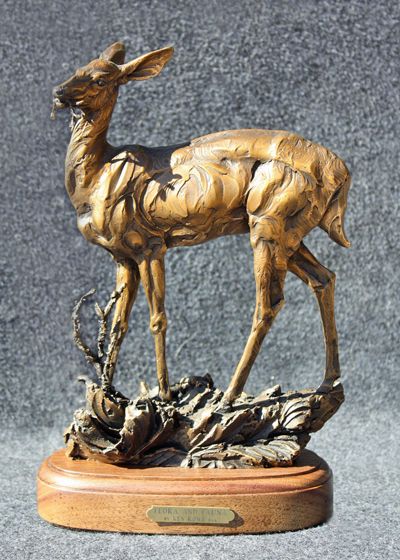 Southwest Wildlife would like to offer a unique opportunity to art enthusiasts!
The world-renowned wildlife artist, Ken Rowe, created a beautiful bronze sculpture modeled after Nalani, a Coues white-tailed deer, who lives at our sanctuary.  Ken has generously donated the casting.  This unique bronze is titled "Flora and Fauna" and measures 7" x 11".  It would be a lovely piece for your home or office and has been priced at $925.00.  We have only one sculpture available.
Whether you're shopping for a memorable holiday gift or adding an artistic piece to your own collection, you'll be helping the animals of Southwest Wildlife. 
If you have questions, please contact Kim Carr at (480) 471-9109 or email kim.carr@southwestwildlife.org. 
Visit the Rowe Gallery website here.