Volunteer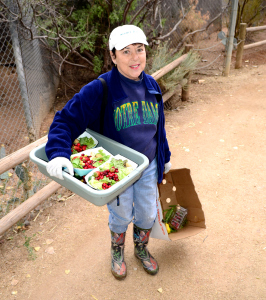 Volunteers at Southwest Wildlife play a very important role in our mission. SWCC currently has two part time volunteer programs, one for assisting with animal cleaning and feeding, the other for assisting with educational programs and tours. Prior experience is not necessary, although may be preferred. A sense of responsibility and dedication to the cause is essential.  We request all volunteers be willing to commit to at least a 6 month timeframe with a minimum of 4 hours of service a week.  A driver's license and your own transportation is a must. Please note that your volunteer work will mostly be outdoors. You will need to work in all weather conditions, hot or cold, wet or dry. Rattlesnakes, scorpions, spiders, ticks and the like are often encountered. All prospective animal care and education volunteers will be required to attend an orientation class prior to volunteering. Only a few volunteers are needed at a time, so attending a class does not necessarily mean that you will be accepted.
Volunteers are also needed for day jobs, such as washing dishes, doing laundry, cleaning up the facility grounds, organizing storage areas, etc.  If you are interested in helping out occasionally without requirements for training or time commitment, this may be for you!  Please mark your application accordingly for Day Job, and we will keep a list to email when we have odd jobs to do.
Please note that all volunteers must be at least 18 years of age, and no pets or children will be allowed on site while volunteering.
Watch this video about volunteering with Southwest Wildlife Conservation Center: SWCC Volunteer Recruitment Video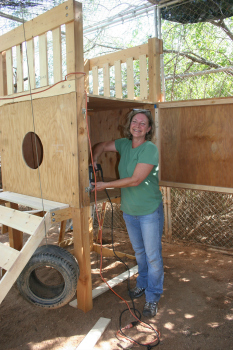 Animal Care volunteers assist the keepers in cleaning enclosures and helping prepare food. Initially you will only be working from outside the enclosures, carrying things like buckets, food bags and tools for removing fecal material plus whatever the keepers need to complete their work inside. Diet preparation consists of cutting fruits and vegetables plus handling raw meat. Good physical condition is a necessity as you must be able to lift 50 pounds and be able to stand for extended periods in all weather conditions. Be aware of the existence of allergens as you will be exposed to bedding material that is dusty and filled with dander and fur. It is your responsibility to have your tetanus vaccination up to date, and preference may be given to those who have rabies vaccination. Animal care work is performed weekdays, usually Mondays and Thursdays, from 8:00 to noon.
Wildlife Education volunteers need to have a flexible schedule. Tours are offered Monday through Saturday by appointment only. Special events and programs are usually scheduled well in advance both on and off site, and you will have the opportunity to assist with these as well. Initially you will help the guide by keeping the group together, providing you with the opportunity to learn the information and interpretation techniques.
Day Job volunteers assist with various tasks and need no training or time commitment. We will send out an email when we have jobs to do. No experience is necessary, but if you have certain skills please include that on your application.
There is a $50.00 applicaiton fee for all volunteers. This fee covers your background check, volunteer T-shirt and admin fees.
Still interested? Please submit the following application. If it looks like you have the qualities we need, we will be in touch concerning an orientation class or day jobs. Thank you for your interest in volunteering!