CORPORATE SPONSORSHIP
OUR SPONSORS MAKE A WORLD OF DIFFERENCE FOR ANIMALS
---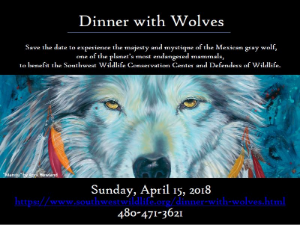 Southwest Wildlife is so grateful to our corporate sponsors! 
Some sponsors host fundraisers, such as My Sister's Closet, which has been the presenting sponsor for Dinner with Wolves for many years.  Soderstrom Veterinary Surgery and Salt River Veterinary Specialists are there to consult on difficult medical cases.  Robertson Consulting Group (RCG Technology) keeps our computer systems current, up and running.  Aravaipa Running donates a portion of their racing event income to us, and Tour Monkey LLC donates a set amount per traveler to SWCC as part of its mission to Go Global Give Local.  Mike and Joan Smith of California Pools and Landscaping generously donated pools and waterfalls for the black bears, and For Those Without a Voice has raised funds and funded several large construction projects.  Dynamite Water, LLC has donated tanks for additional water storage onsite during fire seasons and times of water shortage.  
Wild thanks to these sponsors!  Please give them your support.  They are making a difference for the animals every day!
If your business is interested in a sponsorship for Southwest Wildlife, please send us an email at swcc@southwestwildlife.org.