Dinner with Wolves - Sunday, April 5, 2020
AN EXPERIENCE UNLIKE ANY OTHER
---
Dinner with Wolves will introduce guests to both the beauty and the complex history of the most endangered gray wolf in the world – the Mexican gray wolf.  At the end of 2018, a minimum of only 131 Mexican gray wolves existed in the wild.  Guests will learn how their support can save this special animal that lives within our own state boundaries.
Mingling mere feet from the wolves' enclosures, guests attending Dinner with Wolves will be up close with several Mexican gray wolves now living at the Southwest Wildlife Conservation Center, along with other native wildlife including black bears and mountain lions.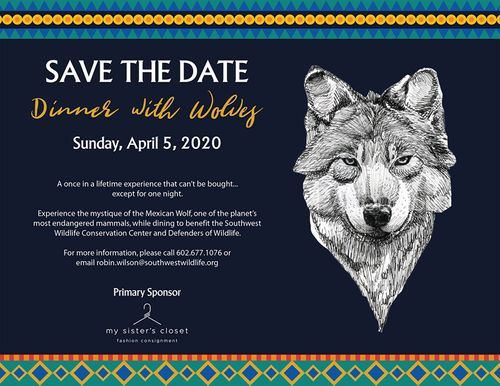 This gala fundraising event will feature cocktails and a self-guided tour of the facility, a catered dinner, speakers, and silent and live auctions.
Proceeds will benefit the work of Southwest Wildlife and Defenders of Wildlife.
Seats for Dinner with Wolves are priced at $250.00. 

Registration questions can be directed to Robin Wilson, SWCC Events and Volunteer Coordinator. 
Contact Robin by email at robin.wilson@southwestwildlife.org, or call (602) 677-1076.
Under IRS guidelines, we are required to disclose an estimate of goods or services in return for contributions over $75.00. The estimated fair market value of goods and services received for the Dinner with Wolves event is $100.00 The value of your donation is $150.00 per registration.
Cancellation policy: SWCC reserves the right to cancel events at its discretion. Individual cancellations must be requested on or prior to March 30, 2020 in order to receive a refund. Cancellations after March 30th will be considered a donation to Southwest Wildlife and Defenders of Wildlife. Please contact Robin Wilson for cancellations.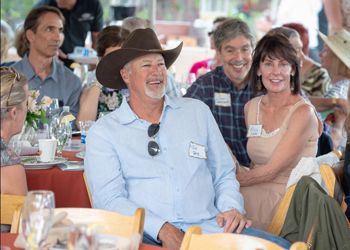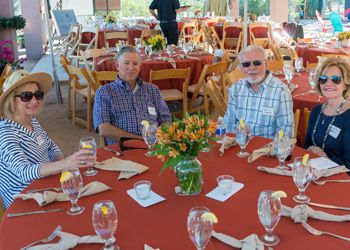 ---
The Night's Festivities
The intimate evening will begin at 4:00 pm at Southwest Wildlife Conservation Center in north Scottsdale, near Rio Verde.
A private bus is provided and will leave promptly at 3:45 pm from My Sister's Closet Lincoln Village, 6204 N. Scottsdale Road, Paradise Valley, AZ 85253.
Upon arrival and during the cocktail hour,  guests will have the opportunity to stroll Southwest Wildlife Conservation Center to see the resident Mexican gray wolves and the many other native wildlife that find sanctuary at this amazing location.
Cocktail hour and tours will be followed by a silent auction, sit-down dinner, and presentations by Defenders of Wildlife and Southwest Wildlife Conservation Center. 
Auction items are still coming in and we're excited and grateful for all the wonderful offerings for our guests.  The purchase of each item donated for the auctions will help Southwest Wildlife and Defenders of Wildlife in their missions to help wolves and all wildlife. 
Silent auction items will include these two 24" X 24" artist embellished giclee on canvas created by artist Bruce Marion.  The wolf piece is titled "Alpha" and the bear is titled "Joyful."  
If you have an item you would consider donating to the auction, please contact Robin Wilson at robin.wilson@southwestwildlife.org for more information.
The evening will conclude at approximately 7:00 pm when guests may board the private bus back to My Sister's Closet in Paradise Valley.
---
Our Sponsors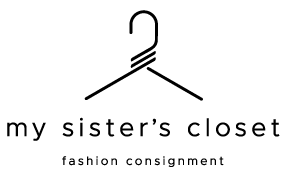 Title Sponsor Ann Siner, founder and CEO of My Sister's Closet says of Dinner with Wolves:
"We have raised more than $55,000 in the last few years towards the awareness about the Mexican gray wolf and this year, we hope to double that and continue raising awareness so people understand how terribly close this animal is to extinction."
"We have a chance to save this wolf right here in Arizona, but it's going to take education and everyone pitching in to save these endangered wolves."
---
About the Beneficiaries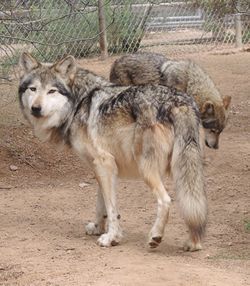 Both Southwest Conservation Center and Defenders of Wildlife are 501(c)(3) nonprofit organizations and depend on your contributions to perform their missions.
Southwest Wildlife Conservation Center currently provides sanctuary for 15 Mexican gray wolves.
Since 1994, Southwest Wildlife has been committed to saving wildlife, one life at a time. SWCC rescues and rehabilitates wildlife that has been injured, displaced or orphaned. Once rehabilitated, they are returned to the wild. For those that cannot be released, permanent sanctuary is provided. SWCC helps Mexican gray wolf preservation by offering space at the sanctuary to care for part of this species' captive population. As a holding facility, Southwest Wildlife covers the entire expense of feeding and caring for these animals, with no contribution from either federal or state agencies. Wildlife care includes proper nutrition, safe and clean enclosures, and medical care. SWCC is considered a leader in innovative rehabilitation techniques and a premier destination for intimate wildlife viewing, including the opportunity to hear the beautiful howl of the Mexican gray wolf.
Defenders of Wildlife is dedicated to the protection of all native animals and plants in their natural communities. In 1998, the U.S. Fish and Wildlife Service, led by Jamie Rappaport Clark (now president of Defenders of Wildlife), released 11 Mexican gray wolves back into the wild in Arizona. 
Founded in 1947, Defenders of Wildlife is a major national conservation organization focused solely on wildlife and habitat conservation and the safeguarding of biodiversity. Defenders of Wildlife has played a leading role in helping shape smart policies to conserve wildlife and habitats on public lands and waters. A large portion of our habitat work focuses on our national wildlife refuges, national forests, national monuments, and other public lands and waters, as these areas represent some of the last and best places for wildlife to thrive. The organization also works extensively on private lands in partnership with individual owners as well as state and tribal agencies to encourage people to protect and restore key habitats.
---