SCHOOL FIELD TRIPS
UP CLOSE VIEW OF NATIVE WILDLIFE
---
Tour our wildlife sanctuary with your students to learn how to safely coexist with native Arizona wildlife. Small groups get an up-close view of Southwest Wildlife as we share the compelling stories of our sanctuary residents. Our tours are led by experienced guides using an engaging, standards-based curriculum. The tour is two hours long and takes place completely outdoors.
Fill out the Initial Request Form below to receive information about tour fees and scheduling.
IMPORTANT:
The Initial Request Form does NOT guarantee tour availability, we will contact you regarding your tour request. 
Each tour has a maximum of 50 participants (students and adults combined). If your group is larger than 50, we must split your group over multiple days.
Dates for school field trips are limited. 
Please contact us at least 2 months in advance with your preferred tour date. 

We do NOT offer school tours past mid-May due to extreme heat of summer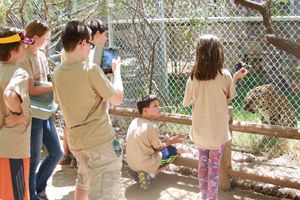 In addition, please see our FAQ section below.
If you have further questions, e-mail us at education@southwestwildlife.org or call us at 480-471-3621
---
Initial Request for Field Trips Form